Cultural Experiences Discussed at Power of Language Conference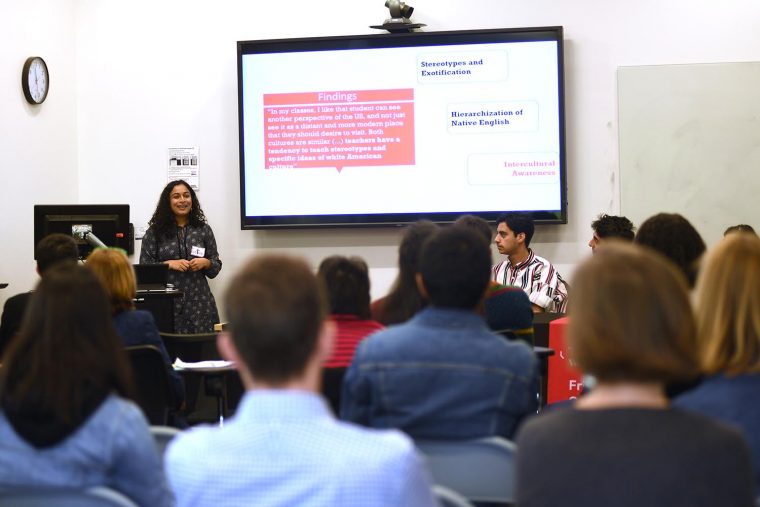 More than 110 Wesleyan students, faculty, alumni, and local guests participated in the second annual Power of Language Conference, April 26-27 at the Fries Center for Global Studies. The event was open to the entire Wesleyan community.
The two-day event featured six panels that focused on: Creative Language Learning, Crossing Time and Border through Translation, Language and Society, Language in Curriculum, Arabic in the U.S., and  Polyphony through Literature.
"The presentations ranged from class final projects (such as a comic version of Dante's Inferno, reimagined at Wesleyan) to senior theses (such as the challenges of translating early modern Spanish into accessible contemporary English)," said Steve Angle, Mansfield Freeman Professor of East Asian Studies and director of the Fries Center for Global Studies. "Taken as a whole, the presentations captured the challenges and rewards of working with the world's languages."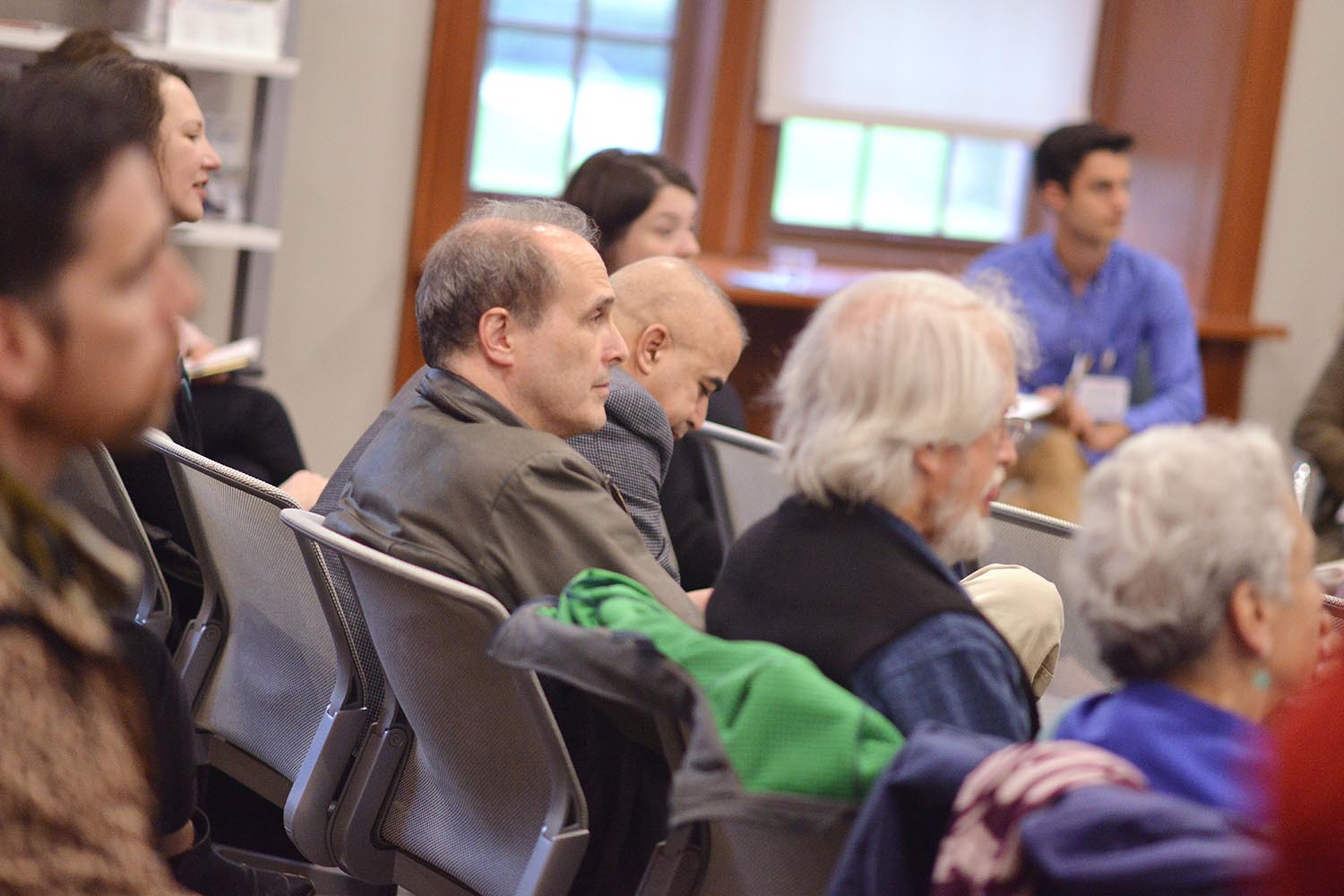 On April 26, 10 alumni (two via Skype) gathered for a Language Alumni Panel during the event's opening. They included Aaron Shield '99 (Italian, ASL); Max Hadler '03 (Spanish, Portuguese, Kichwa); Ruth Lazenby '10 (French); Judy Her '13 (Korean, Chinese); Emma Kemler '15 (Spanish); Austin Barvin '15 (Russian); Molly Zuckerman '16 (Russian); Lucy Rubin '17 (Japanese); Isabella Corletto '18 (Spanish, Italian, Portuguese); and Kora Shin '10 (Korean, Italian).
Lucy Rubin enrolled in her first Japanese class at Wesleyan because she liked animation. "Learning Japanese was finding another way I could express myself," she said. "Sometimes when I'm speaking English, I wish I could just use a Japanese word in our conversation, because the Japanese word gets exactly at how I feel, and there isn't an English word that could say the same thing."
When Kora Shin enrolled at Wesleyan, she already had a background in Latin, but she was curious about Italian and Korean.
"I'm Korean American, so studying Korean was important and I picked up another language. Italian is such a beautiful language; it was a natural next step and it meshed well with my government studies," she said.
Shin worked at a Korean dry cleaner, which had Spanish customers.
"When I spoke in Italian, we could communicate with the Spanish speakers. It was fascinating to communicate with people with whom I didn't actually share a common language," she said.
More than 25 guests delivered brief presentations throughout the conference.
During a panel on Creative Language Learning:
Abderrahman Aissa, adjunct assistant professor of Arabic, spoke on "Second Language Acquisition: Strategies for learning vocabulary through word, phrase, and image association."
Kaidi Chen, visiting lecturer in language and culture studies at Trinity College, discussed "Cultural Experiences and Performances in Chinese Classroom."
Ariel Deutsch '21 and Sophie Mann-Shafir '22 spoke on "WeScoprire: Project-based Learning."
And Judy Duran '13 shared her knowledge on "Digital Stories Project: Student Voice and Language and Literacy Development."
During the Language and Society panel:
Maya Freda Bernstein-Schalet '20, Shaya Tousi '22, and Fereshteh Ganjavi (University of New Haven) spoke on "The Persian Language and Iranian Culture."
And Cristine Khan '13 presented "Questioning the Role of Native English Speakers in International Language Education."
During the Crossing Time and Border through Translation panel:
Benjamin Sarraille '19 spoke on "A Song of Ilium: Translating Homer's Iliad."
Ana Rodríguez Santory '20 presented "A Kaleidoscopic Lens: A Dialogue of Languages."
And Graduate Liberal Studies student Richard Mackin spoke on "Millennia of Speaking of Nothing: Translation, Transmission, and Transliteration of Buddhist Chants."
At a panel focused on Language in Curriculum:
Katherine Lahti, a graduate student at Trinity College, spoke on "Linguistics in the Undergraduate Curriculum."
Catherine Kiall '19 discussed "A Liberal Education Without Latin?": Latin in American Secondary Schools."
Kiyo Saso '21 and visiting international student Victoria Bianchi spoke on "¿Convivencia o conflicto?: Las tres culturas de la España medieval a traves del arte."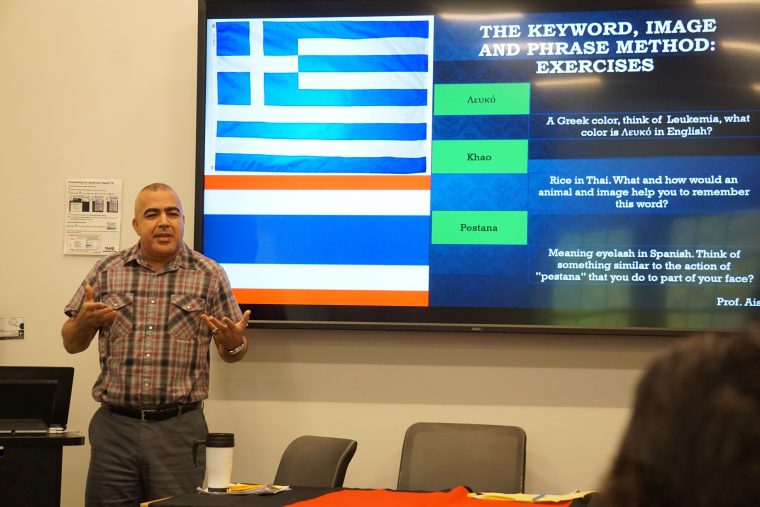 During a panel on Arabic in the U.S.:
Professor Aissa, graduate student Yousef Alharbi, Daniel Atik '20, and Graduate Liberal Studies student Michael Acosta discussed "What is the current status of Arabic Language in the U.S.?": Arabic Language from four perspectives."
The final panel on Polyphony through Literature featured:
Rachel Williams '19 speaking on "Translation across Time/Space: Translating Literary Works from the Early Modern into Today."
Alessandro Sassi '21 and Casimir Fulleylove-Golob '21 presenting "Inferno Canto 1: Freshman Year."
Quentin Tan '22 on "Representing the Polyphony of Tongues in Literature."
In addition, Anna Marti '22 spoke during a lunch break on "Living in a Hearing World: A Conversation on ASL, Deaf Culture, and Neurodiversity Inclusion."
The conference was cosponsored by the Fries Center for Global Studies; Divisional Deans; Center for Pedagogical Innovation; Office for Equity and Inclusion; Romance Languages and Literatures Department; Russian, Eastern European, and Eurasian Studies; College of East Asian Studies; German Studies; Classical Studies; the Thomas and Catherine McMahon Fund; and the Wesleyan Student Assembly.
"The student-led planning process, as well as the conference itself, helps to further solidify the community of students, faculty, and staff at Wesleyan committed to multilingualism—which of course makes sense, given our position as a national leader among liberal arts colleges in language study," Angle said. "We will definitely be continuing the conference next year."
Photos of the conference are below: (Photos by Olivia Drake, Caroline Kravitz '19, and Kia Lor)