Krishnan's Company inDANCE Presents New England Premiere SKIN at Wesleyan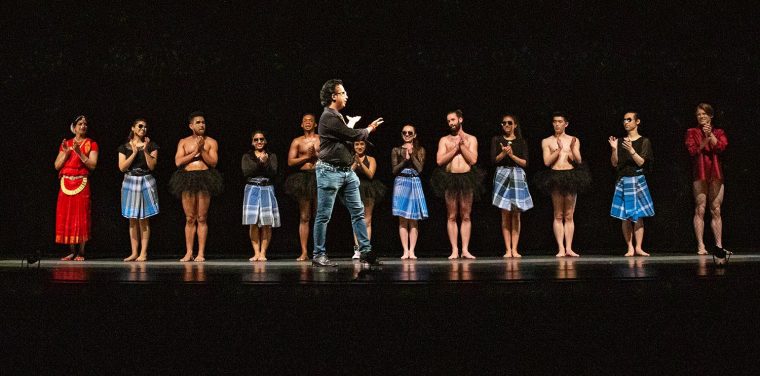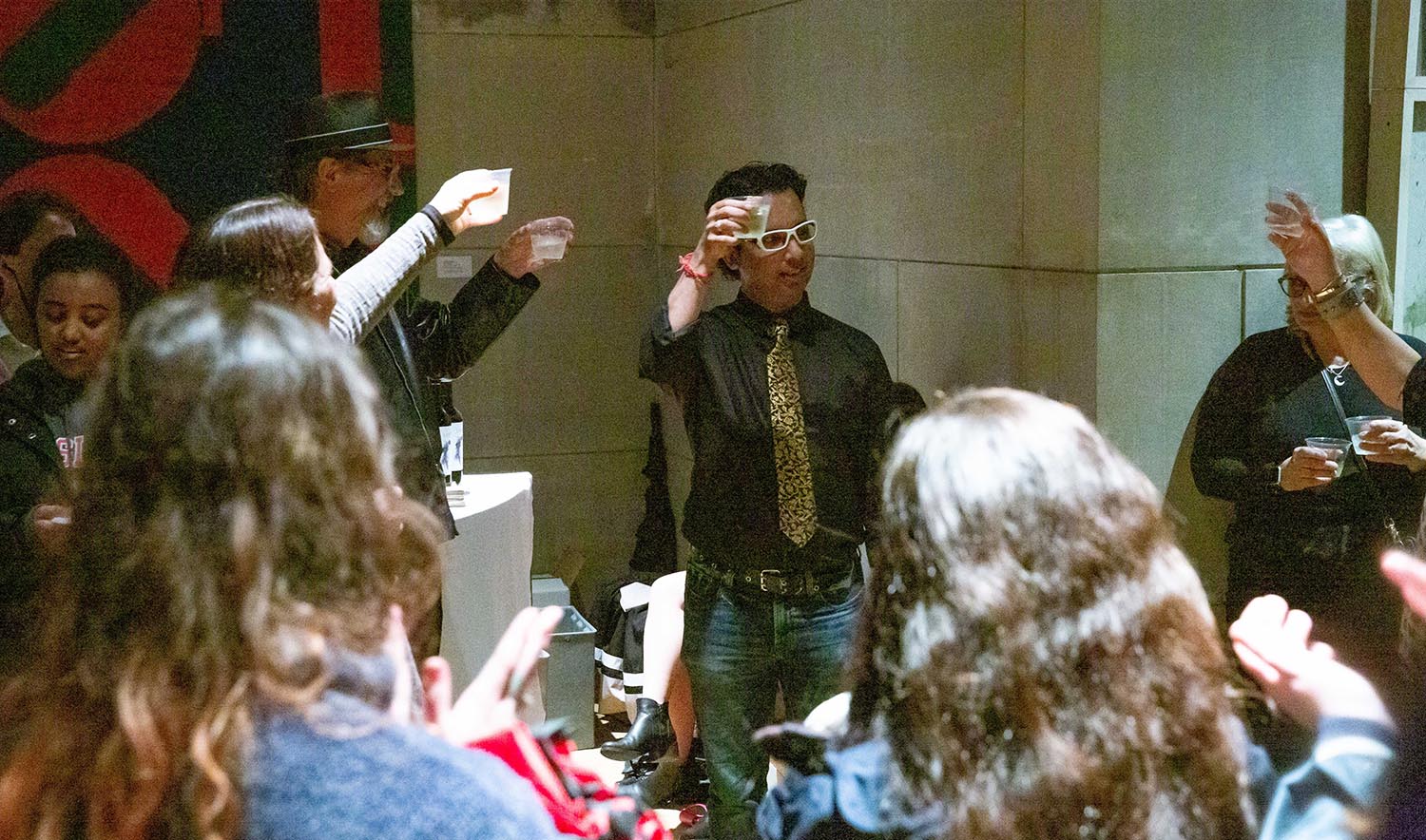 Hari Krishnan, associate professor of dance, brought his Toronto-based company inDANCE to the Center for the Arts Theater for a Spring Faculty Dance Concert on April 26–27, with the New England premiere of SKIN. InDANCE is a progressive Canadian dance company whose work transcends boundaries of the familiar and culturally traditional. Offering, instead, surprising juxtapositions in styles, manner, and dress, inDANCE "subverts clichéd representations of 'classical' Indian dance, and speaks with an 'obscenely loud,' inimitable, and unorthodox global voice," as noted in the program Krishnan prepared for the event.
SKIN, composed of five pieces, brought together on stage several members of Krishnan's Toronto company and a select group of Krishnan's current students: Mickey Kieu '19, Amira Leila '20, Gita Ganti '21, Aditi Mahesh '21, Luna Mac-Williams '22, and Spenser Stroud '22. Noteworthy also: first-year member of the inDANCE company, Eury German '16, a dance and biology double major while at Wesleyan, was back on the CFA stage, as a dancer in "Holy Cow[s]!" the fifth piece of the evening. Professor Emeritus of Theater John Carr created the lighting design. A preshow performance, "Fantastic Beasts Meet on a Whimsical Beach…" included audience participation through phone texts.
In a WESU-FM preconcert interview for the CFA Radio Hour, Krishnan joined Dean of the Arts and Humanities and Professor of Dance Nicole Stanton, along with dancers from the upcoming Middletown premiere of the show to discuss this work.
"I was inspired by … my lived-life experiences, living in various parts of the world—Singapore, India, Canada, and the U.S.—coupled with my diversity in dance training, whether it's Indian Classical Dance or contemporary dance perspectives, and using it to create a more personal movement vocabulary," Krishnan told Stanton.
Skin, he explained,  is a "mixed bill of five pieces"—"Skin," "Mea Culpa," "Boxes 3, 7, & 8," "Uma," and "Holy Cow[s]!"— "undergird[ed] … [by] an adventurous, thoughtful authentic exploration and representation of the world as I see it: in terms of my own experience being a person of color, an openly queer man, as an immigrant, and a dance artist, a choreographer, and a dance teacher." It's not a  "culmination," he says, but "a representation of all these five pieces."
Putting both his work at Wesleyan and inDance in context of each other, he explained to Stanton: "InDANCE functions like a kind of dance umbrella for me that encompasses a bulk of my activities…. The success of my company is based on the people I choose to work with. They have to be as adventurous, as obsessed with…sociopolitical realities around them and bring this lived life authenticity experience with them into the dance studio and most importantly they have to be as insane as me.
"This kind of unpredictability, this ability to laugh at yourself is an important feature in my work and my personal life," he said.
In conjunction with the performance, Krishnan delivered the Cynthia Novack in Memoriam Lecture: "THAT'S SO QUEER! THAT'S SO ETHNIC! THAT'S SO FOREIGN!" on April 24.
InDance will bring SKIN to New York on May 11–12 at La MaMa Moves! Dance Festival.
Photos of the performance are below: (Photos by Sandy Aldieri of Perceptions Photography)