Students Honored at 7th Annual Scholar-Athlete Dinner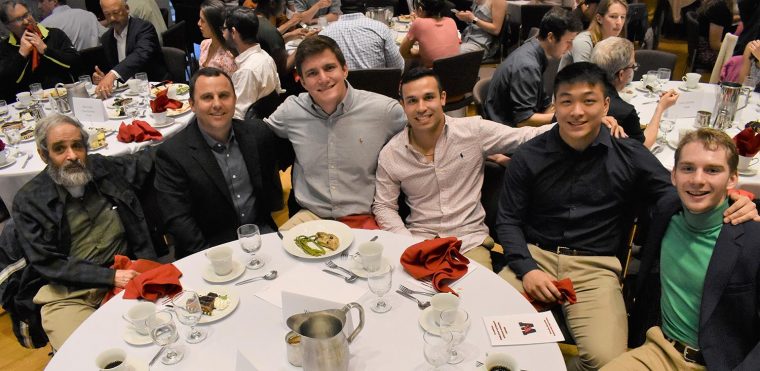 On May 2, the Wesleyan Athletics Department honored 169 student-athletes for their excellence in athletic competition, combined with their outstanding work in the classroom. The seventh Annual Scholar-Athlete Dinner took place inside Beckham Hall at Fayerweather.
The ceremony began with comments from Director of Athletics, Mike Whalen '83, as well as President Michael Roth, and an invocation by Father Bill Wallace preceded dinner.
Wesleyan honored men's soccer alum Andrew Lacy '89 with the Cardinal Award, which is chosen by the Athletic Advisory Council and presented annually to an individual with extraordinary contributions and dedication to the success of Wesleyan Athletics. Additionally, Chad Malinowski of men's ice hockey and lacrosse, and Victoria Yu of women's tennis received the Maynard Awards, which is presented annually to the Wesleyan male and female senior Scholar-Athlete who best exemplifies the spirit, accomplishments, and humility of Roger Maynard '37. The dinner concluded with speeches from seniors Jordan Bonner of men's basketball and Sarah Goss of women's ice hockey. View photos below or in this full photo gallery on the Wesleyan Athletics Flickr site.