Meislahn Reflects on Challenges of Her Career as Dean of Admission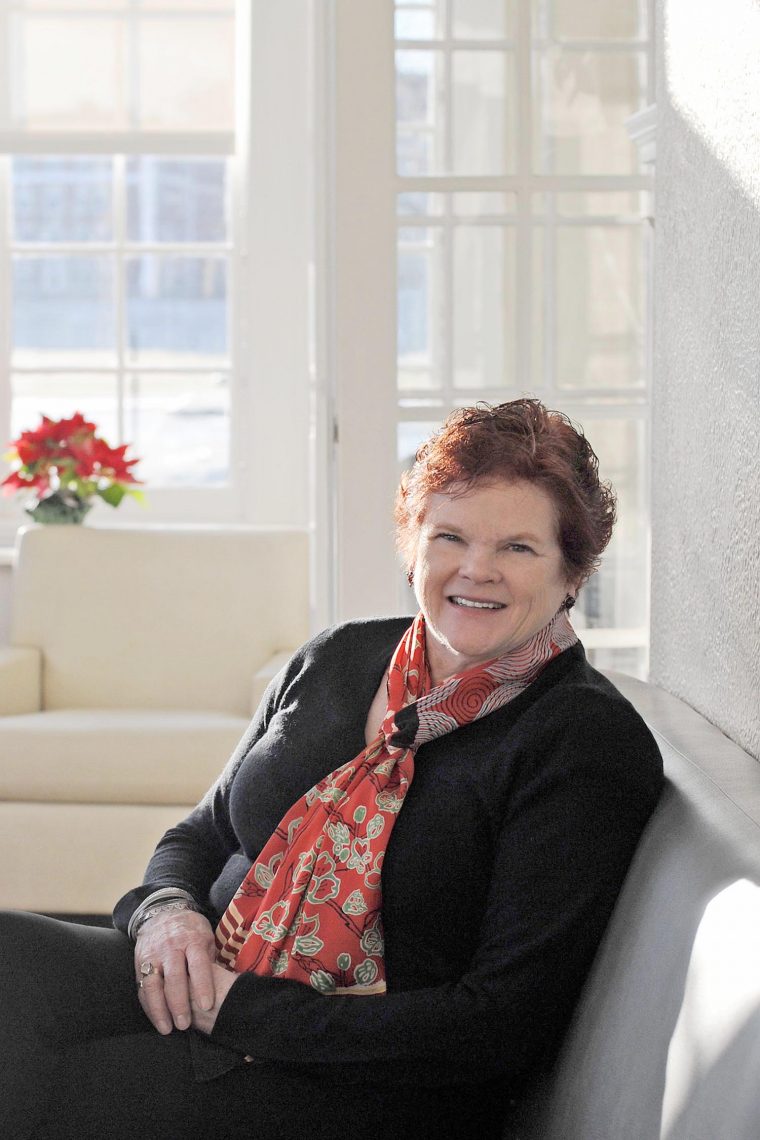 Nancy Hargrave Meislahn, vice president and dean of admission and financial aid, will retire in September following the arrival of the Class of 2023, the 20th class she admitted to Wesleyan. In this Q&A, she reflects on the main challenges, changes, and highlights of her accomplished Wesleyan career. (Read her retirement announcement in this past News @ Wesleyan article.)
Q: You are the longest-serving dean of admission in Wesleyan's history. How are you feeling ahead of your impending retirement?
A: Definitely a bittersweet moment, but I'm ready. I've admitted 20 classes to Wesleyan and that should be enough—for me and for the institution. Time for new leadership! I firmly believe we are all replaceable and that change is good.
Q: During your tenure, applications to Wesleyan (including international student applications) have nearly doubled. To what do you attribute this impressive growth?
A: It was a clearly articulated strategic goal to double the international student population, and create a bigger "global footprint" on campus. So, we set out to work! We increased Wesleyan's on-the-ground presence, expanding recruitment especially in India, Europe, Latin America, and Southeast Asia, building on the very strong reputation of the Freeman Scholars program. We invited overseas counselors to campus and increased our engagement with international professional associations. It has been a team effort and extremely rewarding to see how we've been able to bring more students from all over the world to Wes.
Q: You've examined thousands of applications. From these, how do you recognize ideal Wesleyan students?
A: I always say that the common thread among the wide range of backgrounds and perspectives that Wesleyan students bring is intellectual curiosity. A deep interest in learning about the world around them, from people who are different from themselves. And, in that context, a respect for different opinions and perspectives. A tolerance, maybe even an intrigue, for exploration and ambiguity.
Q: Did you ever have an "Aha!" moment when you realized that the work you were doing had such a substantial impact?
A: Many! Always related to student success. It is what has recharged my batteries over the years and kept me doing this wonderful work. Sometimes a first-year student will come to see me. Sometimes a graduating senior sends or delivers a thank you. Sometimes a parent of a current student sends an email.
Another rewarding aspect has been mentoring admission officers. The connections I've made and kept with senior interviewers and others who joined the ranks of admission officers here at Wes (or other places) has definitely made an impact on so many students' lives and multiple institutions. The admission version of the Wes Film "mafia."
Q: What makes you proudest?
A: I am particularly proud of the partnership we started with Posse to enroll 10 veterans in each class. Wes 2023 brings the sixth Posse cohort to campus and I think of that as one of the best things I did.
Q: What has been the biggest challenge or obstacle for you as dean of admission? What are the biggest challenges and opportunities for Wesleyan's Office of Admission in the future?
A: I don't know if it is the biggest, but top of mind is that it takes a lot of time, work, and energy to generate an application pool, to do the sifting and sorting in review of applications, and keeping all the staff focused on the work at hand, on University priorities, and finding the joy and reward in the work at the same time. I've often said: If we are going to work this hard, we better be having fun!
Q: What are you going to miss most about working at Wesleyan? Will we continue to see you around?
A: The colleagues I've worked with are the smartest, most committed, mission-driven admission staff anywhere. Smart and hard-working is a tough combo to beat.
I plan to stay in Middletown so I don't have to think about "missing" the community and Wesleyan experience. I am looking forward to continuing to attend events at the CFA, the spring art thesis show, and, of course, you'll see me cheering on the sidelines, in the end zone, and at Freeman!