Haitian Band Performs, Teaches Dance and African Drumming Students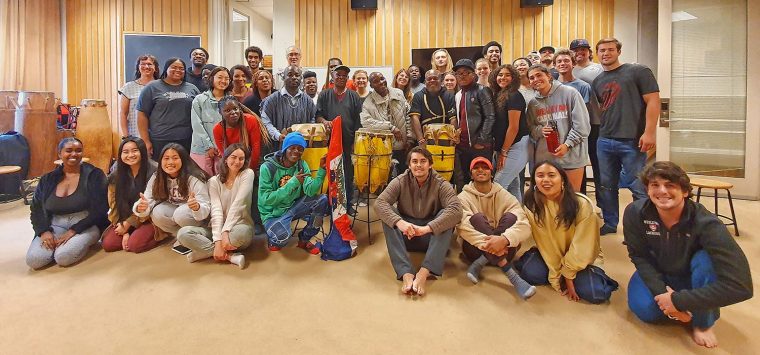 Haiti's "Roots" band RAM came to campus for a one-day artists' residency and led drumming and dance workshops for Wesleyan students. They met with students in two classes on Oct. 8.
The group, led by Richard Morse, has produced music for more than 25 years. They recently released their seventh album, August 1791.
In the morning, RAM led a dance workshop for two combined classes: Afro-Brazilian Dance taught by Joya Powell, visiting assistant professor of dance, and Contemporary Dance Technique II/III taught by Katja Kolcio, chair and associate professor of dance. And in the afternoon, they led a workshop for the West African Music and Culture class, taught by John Wesley Dankwa, assistant professor of music.
"My students were thrilled to be in the company of such talented artists. They thoroughly enjoyed the uplifting dance workshop experience facilitated by Isabelle Morse, and were blown away by the powerful live drummers and singers," Powell said. "They were able to make significant connections to the movement nuances and dance steps found in folkloric Haitian dances and Afro-Brazilian dances."
RAM led students in the traditional Afro-Haitian dance and rhythms, and spoke to students about how these art forms had their source in West Africa, were brought with enslaved Africans to Haiti, were part of the 1791 slave uprising, and have been passed on through the generations since Haiti won its freedom and abolished slavery in 1804.
Photos of the workshop with the West African Music and Culture class are below: (Photos by Nick Sng '23)