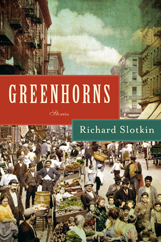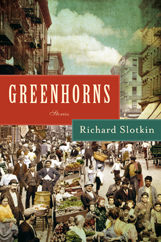 Richard Slotkin, Olin Professor of English, Emeritus, is the author of a new book, Greenhorns: stories, published Oct. 10 by Leapfrog Press.
Slotkin writes more personally in Greenhorns than in his past nonfiction books, in a series of linked semifictional stories based on his ancestors' immigration from Eastern Europe early in the 20th century.
A kosher butcher with gambling problems; a woman whose elegant persona conceals unspeakable horror; a Jewish Pygmalion who turns a wretched orphan into a "real American girl"; a boy who clings to his father's old-world code of honor on the mean streets of Brooklyn; the "little man who wasn't there," whose absence reflects his family's inability to deal with their memories—these tales of early 20th-century Jewish immigration blur memoir and fiction, recovering the violent circumstances, the emotional costs of uprooting that left people uncertain of their place in America and shaped the lives of their American descendants.