In the fourth of this continuing series, Sara McCrea '21, a College of Letters major from Boulder, Colo., reviews alumni books and offers this selection for those in search of knowledge, insight, and inspiration. The volumes, sent to us by alumni, are forwarded to Olin Library as donations to the University's collection and made available to the Wesleyan community.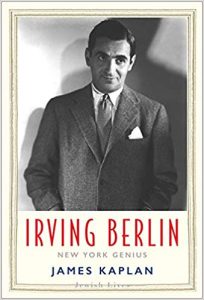 James Kaplan '73: Irving Berlin: New York Genius (Jewish Lives Series) (Yale University Press, Nov. 5, 2019)
Venerated biographer James Kaplan first encountered the music of Irving Berlin in a New York record store in the '70s. The tune: "Oh, How That German Could Love," a song Berlin composed at 21 years old. Kaplan was entranced, playing on repeat the song that he writes "pierced the thick veil of time." One could say Kaplan accomplishes the same feat, as Irving Berlin: New York Genius portrays the Jewish immigrant and incomparable composer with stunning depth, integrity, and intimacy. In his portrait of Berlin, Kaplan explores the musician's highs and lows, from his astonishing versatility to his struggles with mental illness. Along with the portrait of the musician, Kaplan also captures the dynamic life of the city that made and was made by Berlin: New York City with its glittering, fast-paced energy. In the same manner that Berlin was able to create the essences of songs, Kaplan captures the essence of a life, guiding his readers effortlessly through the nuances of Berlin's character. As a bright spotlight on the nine-decade career of a man who changed American music forever, Kaplan's biography is an homage to extraordinary grit and talent that any music-lover—from ragtime to rock—will appreciate.