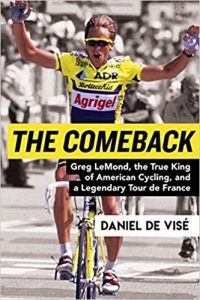 In The Comeback: Greg LeMond, the True King of American Cycling, and a Legendary Tour de France (Atlantic Monthly Press, June 2018), journalist Daniel De Visé '89 has written "a sprint through a big swatch of cycling history, focusing on racer Greg LeMond's triumphant return from disaster," according to Kirkus Review. In this Q&A below, he traces his path from a childhood love of the sport to Wesleyan, and through the journey of this book. Read an excerpt from his book online.
Q:  Tell us about your time at Wesleyan. What was your major?
A:  It was as much fun as I've ever had in my life. I had grown up in Chicago, in the city, and when I arrived on that picture-postcard campus, it felt like some kind of academic Disneyland. I lived in West College, where, on certain occasions, an entire dormitory room would be assembled upside-down on a basement ceiling. I lived on the same first-year hall as Stephen Trask '89, cocreator of Hedwig and the Angry Inch and This Ain't No Disco. Another friend and I created a '60s show for WESU. I majored in philosophy, but I took so many classes in history and religion that I almost ended up short of actual philosophy credits. I met my enchanting future wife, Sophie Yarborough '88, in a history classroom. I took an extra course here and there and finished in three years (very much in the spirit of President Roth's degree-in-three program). I used the extra cash to pay for journalism school at Northwestern.
Q:  You've written several biographies. What sparked your interest in the genre—and what are your favorites (authors or actual titles)?
A:  I've written or cowritten three books, and all have extensive biographical content, but none is pure biography. The first, I Forgot to Remember (Simon & Schuster, 2014), was the memoir of an amnesiac I'd profiled in the Washington Post as a reporter. The second, Andy & Don (Simon & Schuster, 2015), was a dual biography, chronicling the lifelong friendship of actors Andy Griffith and Don Knotts. I wrote that really for Don, who was my brother-in-law. The Comeback is more a work of narrative nonfiction, similar in structure to The Boys in the Boat or Seabiscuit—both personal favorites. It chronicles the rise of Greg LeMond, an American outsider, to the top of the European cycling sport; his near-death, in 1987, in a hunting accident; his incredible return to the top of cycling and victory in the greatest Tour de France ever staged, in 1989; and, lastly, his epic feud with Lance Armstrong, whom LeMond accused of doping, a battle that ended with LeMond's vindication a few years ago. The book encompasses the first comprehensive biography of LeMond, and also a somewhat shorter bio of Laurent Fignon, the Frenchman whom LeMond defeated in '89. The narrative lingers for several chapters on the spellbinding '89 Tour.