Did you ever wonder how we arrived in a post-truth era, where "alternative facts" are substituted for actual facts and feelings are given more weight than evidence? In Post-Truth (MIT Press, 2018), Lee McIntyre '84—a research fellow at the Center for Philosophy and History of Science at Boston University and an instructor in ethics at Harvard Extension School—explores the long history of the phenomenon . . . and what's different this time around.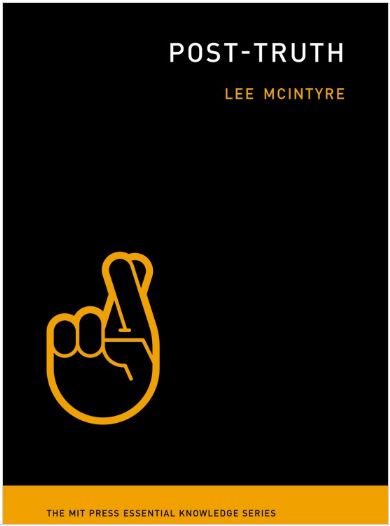 Q: Many people think that post-truth is a new idea, borne of Brexit and the 2016 U.S. presidential election, but in your book, you explore the history behind the concept. Historically speaking, when did the idea first arise?

A: The word "post-truth" first started to be used in the 1990s, in a political story in a magazine. But the real interest here is that in 2016 the Oxford Dictionaries named post-truth their word of the year. This was due to a 2,000% increase in usage from 2015! So the word post-truth is of fairly recent origin. But the roots behind it, as I explore in my book, go back to science denial in the 1950s and cognitive bias that has been with us since the dawn of human civilization.
Q: As you note, the idea of a single objective truth has never been free from controversy. If this is true, can it be argued that post-truth is really just an alternative view of the truth? Can there be such a thing, in your opinion? 
A: An alternative view of truth—or the claim that there is no such thing as objective truth—is the bread and butter of epistemology. Philosophers debate the meaning of truth all the time: what is the appropriate concept of it, what its relationship is to knowledge, belief, certainty, etc. In the political context, though, things are different. Post-truth arose not from some philosophical quarrel, but from politicians who wanted to impose their reality on others. Here I draw a distinction with something like "spin doctoring" where everyone really knows that the person is lying and shading the truth, e.g., "my candidate obviously won the debate last night," versus claiming that obviously false things are true, e.g., "the murder rate went up in the USA last year." I see post-truth as the first step toward authoritarian rule.
Q: You argue that when we set forth a statement as fact with the intent to manipulate someone into believing something that we know is untrue, we have crossed the line from interpretation to deliberate falsification. Is this, for you, where post-truth begins?
A: Like lying, post-truth is intentional. It is a strategy. There are many different tactics that one might use in post-truth (lying, propaganda, selective exposure to information, etc.), but the intent is what matters. The analogy with lying is telling: A lie has to be made on purpose. One cannot accidentally lie. Similarly, post-truth is the deliberate attempt to see information through a political lens before it is shared with the public. That is when post-truth begins. When political expediency is more important than telling the truth about reality, we have crossed over into post-truth.
Q: We talk about political spin and how its intent is to influence others. But you see post-truth in its purest form to be when one thinks the audience's reaction to the lie told actually changes the lie to truth. Can you give an example, from both sides of the political aisle, of this phenomenon of a lie "becoming" truth?