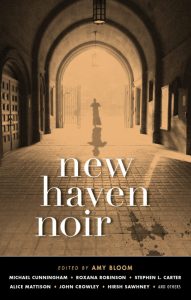 A star-studded cast of contributors curated by Shapiro-Silverberg Professor of Creative Writing Amy Bloom '75 fill the pages of New Haven Noir, featuring original stories from Michael Cunningham, Stephen Carter, Roxana Robinson, Assistant Professor of English Hirsh Sawhney and many others. The book is the latest addition to an award-winning series of original noir anthologies published by Akashic Books, founded by publisher and editor-in-chief Johnny Temple '88.
"I'm a big fan of noir," says Bloom, editor of the anthology, which has garnered praise from both Publishers Weekly and Kirkus Reviews. "When Johnny called me and said, I don't know if you're from New Haven, but I know you're connected to New Haven and I'd love you to edit the anthology, I jumped at the opportunity," she said.
Bloom worked with Temple to select contributors for the anthology, with Bloom choosing to invite several writer friends who hadn't written noir before, including Alice Mattison and Michael Cunningham. "I told them, it's conflict and it's mystery. Bleak. Snappy outfits. Great dialogue," Bloom said. "And they said, count us in."
In addition to serving as editor of the anthology, Bloom also is a contributor. Her story, "I've Never Been to Paris," set in New Haven's East Rock neighborhood, is actually an excerpt from a mystery she wrote years ago, tailored specifically for New Haven Noir.