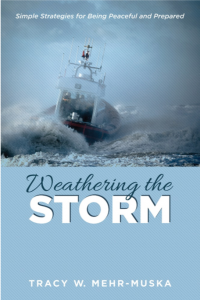 University Chaplain Rev. Tracy Mehr-Muska is the author of a new book titled "Weathering the Storm: Simple Strategies for Being Peaceful and Prepared," published by Wipf and Stock on April 19.
The book offers simple and proven strategies to develop resilience that will be of benefit to anyone who is yearning to feel more peaceful and prepared. Mehr-Muska draws upon wisdom from different spiritual and religious traditions and from secular scholarship.
"With enthusiasm and passion generated from personal experience, I present the reality that resilience is not inborn, but is instead a simple set of characteristics that can be cultivated," Mehr-Muska said. "I detail these characteristics; invite readers to identify areas of strength and areas for growth; and provide concrete, proven strategies for building these critical resilience characteristics."
A Coast Guard veteran, interfaith chaplain, and pastor, Mehr-Muska shares the stories of her own struggles with self-esteem, sexual assault, and miscarriage that inspired her to research resilience. Mehr-Muska brings these characteristics to life using inspirational secular and multifaith stories, as well as compelling scientific evidence. She ties each chapter together with uplifting stories of personal friends who bravely and gracefully overcame obstacles and embody each of these essential characteristics.