713 Undergraduates Receive Wesleyan Degrees at Commencement (with photos, videos)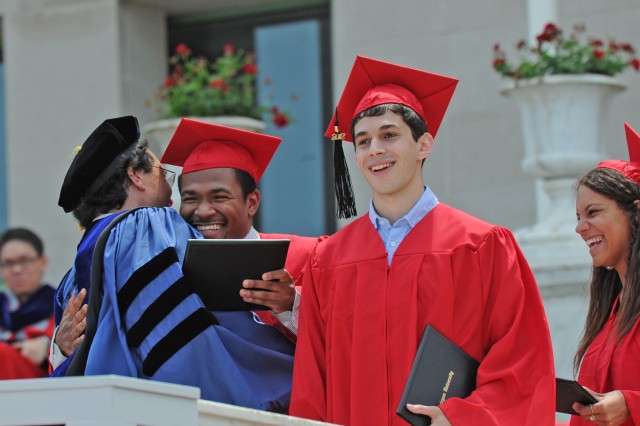 The world is changing at a dizzying pace and uncertainty is rising, but luckily, "Wesleyan has prepared you to live and thrive in this unpredictable world," U.S. Senator Michael Bennet '87 told the Class of 2012 in his Commencement Address. "This is a school that rewards curiosity. It challenges you to test [your] assumptions. It encourages flexibility—of mind, of approach, even of body, if you took that class in acrobatic yoga. Wesleyan has taught you that having a plan counts for less—a lot less—than having your bearings when that plan falls apart."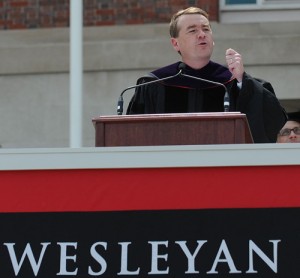 An honorary doctor of laws was conferred upon Bennet at the 180th Commencement Ceremony at Wesleyan University on Sunday, May 27. The ceremony took place on Andrus Field under sunny skies. This year, Wesleyan awarded 713 Bachelor of Arts degrees; 22 Master of Arts degrees; 44 Master of Arts in Liberal Studies degrees; three Master of Philosophy degrees; and 13 Doctor of Philosophy degrees.
Bennet—son of Wesleyan President Emeritus Douglas Bennet '59, P'87, P'94—was elected to his first full term in the U.S. Senate in November 2010. Formerly as the Denver Schools Superintendent, and now as a member of the Senate Education Committee, he has been a tireless advocate for bold, locally driven changes to public education that would ensure every child is prepared to compete in a rapidly changing economy. Senator Bennet also previously served as chief of staff to then-Denver Mayor, now Colorado Governor, John Hickenlooper '74, where he helped balance a historic budget deficit and make city government more responsive to Denver residents. After graduating from Wesleyan, Bennet earned a law degree from Yale Law School, where he was editor-in-chief of the Yale Law Journal.
In his Commencement Address, Bennet described his experiences with two critical institutions—the U.S. education system and political system—that are overdue for "disruptive, transformative change, and reinvention."
"You generation has so many more opportunities to lead, to make change, than the Class of 1987 ever did. So many more means to uproot entrenched interests… to discard worn-out assumptions… to overcome obstacles to progress," he told the graduates. He urged them to channel their "Wesleyan impatience […] with the silliness and downright cruelties of the status quo" to address such pressing issues as energy, education, poverty and inequality in America.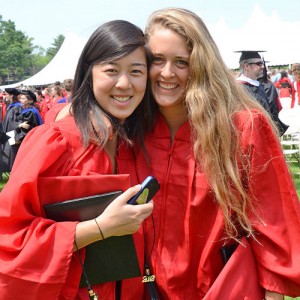 "…some period of public service—teaching might be a good idea—is the debt you owe our country for the privilege of attending this remarkable university," Bennet said.
Honorary degrees also were conferred upon Glenn Ligon '82—an artist known for his series of text-based paintings, which draw on the writings and speech of individuals such as Jean Genet, Zora Neale Hurston, Gertrude Stein, James Baldwin and Richard Pryor—and Cecile Richards P'13, the president of Planned Parenthood Federation of America and the Planned Parenthood Action Fund.
At the ceremony, two individuals were presented with the Raymond E. Baldwin Medal: Bruce C. Corwin '62, chairman and CEO of Metropolitan Theatres Corporation, and William "Bill" Wasch '52, P '84, formerly Wesleyan's director of development and director of alumni programs, and founder of a consulting firm that specializes in customized housing options and personalized services for older adults. The Baldwin Medal, named for the late Judge Raymond E. Baldwin '16, is the highest honor Wesleyan's alumni body presents for extraordinary service to the school, or for careers and other activities which have contributed significantly to the public good.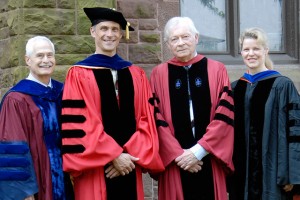 In addition, the Binswanger Prize for Excellence in Teaching was awarded to Woodhouse/Sysco Professor of Economics Richard Adelstein, Professor of History Nathanael Greene, and Professor of Art Tula Telfair. Also recognized at the ceremony were retiring faculty members John Biddiscombe, director of athletics; Joseph Bruno, professor of chemistry; Howard Needler, professor of letters; and Wallace "Pete" Pringle, professor of chemistry.
In his remarks, Wesleyan President Michael Roth pointed to a number of remarkable accomplishments by Wesleyan students—both in the classroom and out in the world. "We want you to remember the pleasure of the camaraderie and openness that have characterized the Wesleyan community to which you will always belong. We want you to remember these pleasures, the feelings of freedom and accomplishment, because we believe that these will stimulate you to continue to be bold, to be rigorous, and to nurture your practical idealism," he said. "This may not be as easy as you imagine. From all around you will come calls for a practicality that is not so idealistic—calls to be more serious, more attentive to 'the real world.' Make no mistake: these are really calls for conformity, demands for conventional thinking that, if heeded, will impoverish your, and our, economic, cultural and personal lives."
Yet Roth said he has faith that the graduates will "gratefully acknowledge those who have sacrificed to nurture you, to guide you, and to protect your freedoms. I trust you will act to reduce violence in the world around us, especially those forms of violence that target the most vulnerable. I trust that you will practice forms of thinking that create opportunity rather than defend inequality and privilege. I trust you will resist the temptations of conformity even as you reject puerile and narcissistic displays of separateness. I have this trust because I have seen what you can do."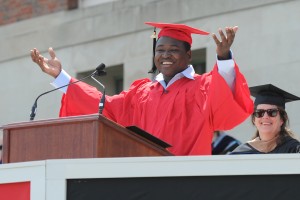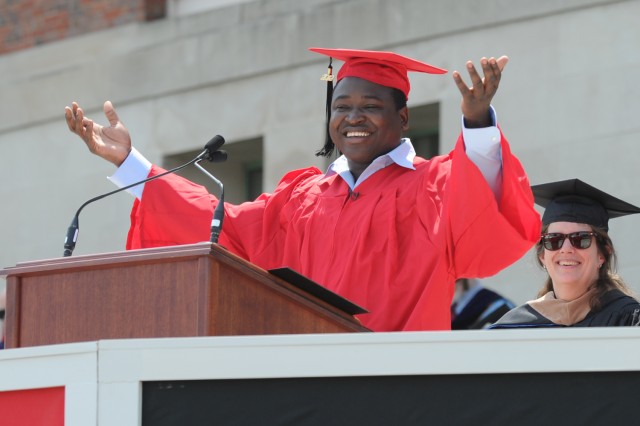 In his Senior Class Welcome, Kennedy Odede '12 described his journey from growing up very poor in Africa's largest slum, Kibera, to Wesleyan. He recalled his puzzlement early on over things other students take for granted: how to work a printer or use a shower, how money could be stored on a little piece of plastic known as a "Wes Card." He used to sprint from class to the dining hall to ensure he would get something to eat before the food ran out. One day, a classmate explained to him that his concern was unfounded; food would be available until the lunch period was over.
"What struck me most about the class of 2012 was the kindness exhibited in explanations like this. Never before in my life had I felt valued. I always felt that growing up poor was something to be ashamed of, and at first I was scared to talk about my past. But then the class of 2012 showed me this kindness on many occasions," Odede reflected. "I had arrived at an incredible place."
Since his start at Wesleyan, Odede founded the nonprofit Shining Hope for Communities with Jessica Posner '09, and built the tuition-free Kibera School for Girls.
"I believe we will only live in a better world if we are willing to take risks to make it a reality, only if we are willing to say, 'Yes.' My fellow graduates, I hope that we continue to say 'Yes' today, tomorrow and throughout our lives."
The text of President Michael S. Roth's address to the Class of 2012 graduates can be found here.
The text of the senior class welcome by Kennedy Odede '12 can be found here.
The text of Senator Michael Bennet's address can be found here.
Information on the Binswanger recipients can be found here.
Information on the Honorary Degree Recipients can be found here.
Information on the Baldwin recipients can be found here.
The entire Commencement 2012 photo gallery is online here and videos of the 180th Commencement Ceremony are online here.
The weekend also saw more than a thousand alumni converge on campus for Reunion. They were kept busy with more than 150 events, including such highlights as an Eclectic party featuring The Rooks; an all-college picnic and festival on Foss Hill; a 50th Reunion and President's Reception for the Class of 1962; the traditional All-College Sing; and an Andrus Field Tent party featuring Kinky Spigot and the Welders. A number of WESeminars also provided alumni with opportunities to revisit Wesleyan's excellent academic experience with presentations by scholars, pundits and other experts. Topics included mindfulness-based stress reduction; a sampling of Wesleyan alumnae performance artists; music and literature of the '60s; the Beman Triangle Archaeology Project; money, marketing and the media; the environment; highlights of the Israeli Film Festival, and much more.
Seth Davis '72 of Croton-on-Hudson, N.Y., who is secretary of his class, attended his 40th reunion this year.
"One of my best friends from my college days was attending his first reunion," Davis said. " 'Are they always this good?' he asked. 'Yes,' I replied, 'they are.'"
The entire Reunion 2012 photo gallery is online here.