41 Wyllys among "Greenest" Buildings in the World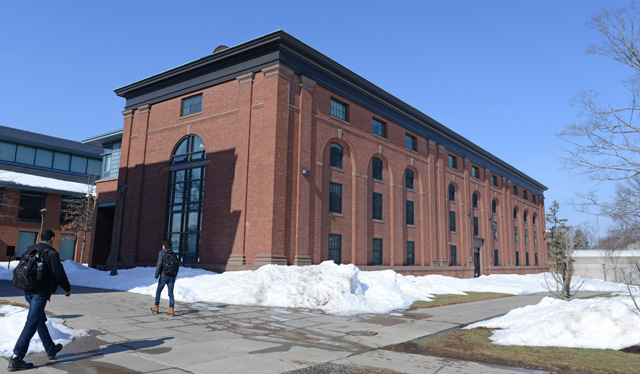 Wesleyan's 41 Wyllys Avenue building is now among the most elite recognized projects in the world.
On Feb. 5, the U.S. Green Building Council certified the former squash facility with a Leadership in Energy and Environmental Design (LEED) "Platinum" designation. LEED certification is a recognized standard for measuring building sustainability. LEED provides building owners and operators with a framework for identifying and implementing practical and measurable green building design, construction, operations and maintenance solutions.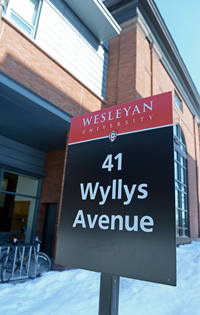 The LEED rating system offers four certification levels for new construction – Certified, Silver, Gold and Platinum – that correspond to the number of credits accrued in five green design categories: sustainable sites, water efficiency, energy and atmosphere, materials and resources and indoor environmental quality.
The 41 Wyllys project is the fifth LEED Platinum non-residential project in Connecticut, and the first Platinum in the state under the current, and most stringent, version of LEED for New Construction and Major Renovation. According to the Green Building Council, only about 70 buildings in the world have achieved a Platinum rating.
"41 Wyllys is among the greenest buildings in the world," said senior project manager Alan Rubacha. "We're proud to have it right here on Wesleyan's campus."
The building, located at the north end of College Row, was originally constructed in 1934 and used as a squash facility. It closed in 2002. The recent renovation began in March 2010 after six months of waste removal and asbestos and lead abatement. In January 2012, the building reopened, housing the College of Letters, Art History Department and the Wesleyan Career Center. A 17-foot addition to the west wide increased the building size from 13,000 to about 22,258 gross square feet.
The project was lauded for several reasons:
More than 31 percent of the total building materials content, by value, has been manufactured using recycled materials. A minimum of 10 percent is required.
More than 26 percent of the total building materials were manufactured and extracted within 500 miles of the project site.
More than 52 percent of the total wood-based building materials are harvested from FSC-certified forests.
New low flow sinks and toilets reduce water use.
The building mechanical system and lighting systems are interconnected to sense occupancy and allow for day and night unoccupied setbacks to reduce energy consumption.
CO2 sensors provide ventilation control in all gathering and classroom spaces, improving efficiency and comfort.
Sealants, adhesives, and coatings with low or no volatile organic compounds (VOCs) were used to improve indoor air quality.
A 2,500 square foot green roof provides water filtration and a reduction of the heat island effect.
Triple glazing on windows on the north, south, and west sides of the building reduces heat gain in the summer, heat loss in the winter, and noise infiltration.
More than 90 percent of the demolition and construction debris was recycled, reducing landfill waste and manufacturing energy.
More than 94 percent of the building's occupants are able to make adjustments on their light controls. Shared multi-occupant spaces, and lighting controls have been provided for 100 percent of the shared multi-occupant spaces.
More than 92 percent of the building's occupants have the ability to make adjustments to room temperature controls.
Wesleyan scored 80/110 LEED credits, designating it "Platinum." Read 41 Wyllys's LEED scorecard online here. Other LEED-certified campus buildings include the Allbritton Center for the Study of Public Life (gold) and Fauver and Bennet Halls (silver).