Wesleyan's Coursera Classes Begin April 21 with Basinger's "Marriage in the Movies"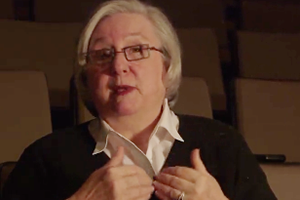 Always wanted to take a course with legendary film professor Jeanine Basinger? Miss the first run of Professor of Psychology Scott Plous' wildly popular "Social Psychology" MOOC? Now's your chance!
The next round of Wesleyan's massive open online courses (MOOCs) is starting up this month, with "Marriage in the Movies: A History" launching April 21. Basinger, the Corwin-Fuller Professor of Film Studies, is teaching the course based on her book, I Do and I Don't: A History of Marriage in the Movies.
"This is essentially a descriptive course on stories and stars and business strategies," says Basinger, who is also chair of film studies and curator of the cinema archives. "It provides information and shows clips for support and example. It's not philosophical; it's not a formalist analysis. It's a simple study about content in the movies designed for people who love films and would like to have more information about some of them and have, what I hope, will be a fun conversation on the changes that evolved over time in stories about marriage that were made in Hollywood."
In the course's intro video, Basinger says the course will explore "how Hollywood had trouble telling the story and selling the story of marriage on film."
The problem, she says, is that marriage is often like a merry-go-round—going happily round and round. "What they needed to make an exciting movie was a roller coaster ride," she says. "So they had to turn marriage into something problematic, troubled, and challenging. And that's why most marriage movies are actually movies about divorce."
"How Hollywood told the story of marriage over decades, starting in the silent era and going all the way up to today, is a fascinating look at America—changing mores, changing roles of women, changing attitudes, and changing film technologies. We're going to see all of that," promises Basinger.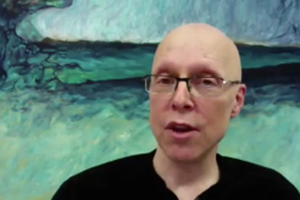 Plous' "Social Psychology" MOOC will be offered a second time, beginning July 14. In its first run, the course attracted more than a quarter million students, making it the most popular course ever on Coursera.
Topics covered in the course include social perceptions and misperceptions; the psychology of self-presentation and persuasion; obedience and conformity; group behavior; conflict, peacemaking and intervention; and empathy. It features readings, video clips and other educational materials donated by more than 40 organizations.
"I'm very excited to offer Social Psychology again," says Plous. "The 2014 version will include new material, terrific guest experts, a one-week break in the middle, and even a few surprises. It should be a lot of fun for anyone interested in learning about why people do what they do."
Wesleyan partnered with Coursera in Sept. 2012, and launched its first MOOCs in Feb. 2013. Early offerings included President Michael Roth's "The Modern and the Postmodern;" Associate Professor of Film Studies Scott Higgins' "The Language of Hollywood: Storytelling, Sound and Color;" and Woodhouse/Sysco Professor of Economics Richard Adelstein's "Property and Liability: An Introduction to Law and Economics." Wesleyan has offered nine MOOCs in all, with several being run a second time. See all the classes here.
View past Wesleyan Connection stories on Coursera classes here.