Schwartz '17 Founder of Wesleyan Radio Control/ Drone Club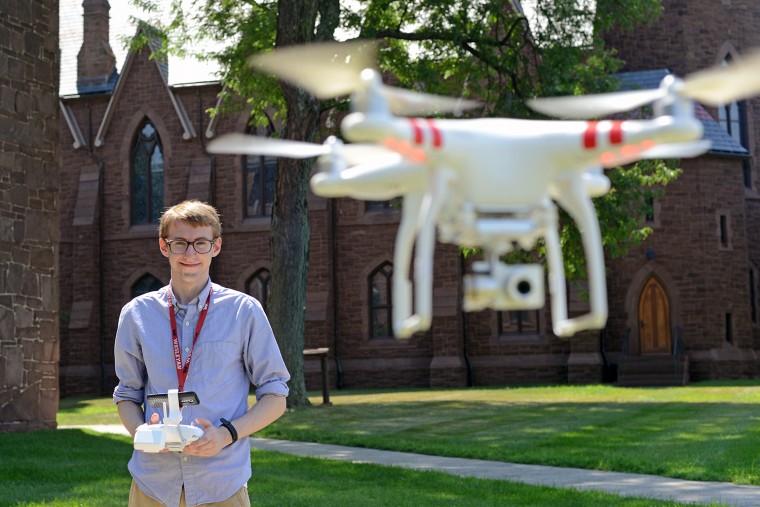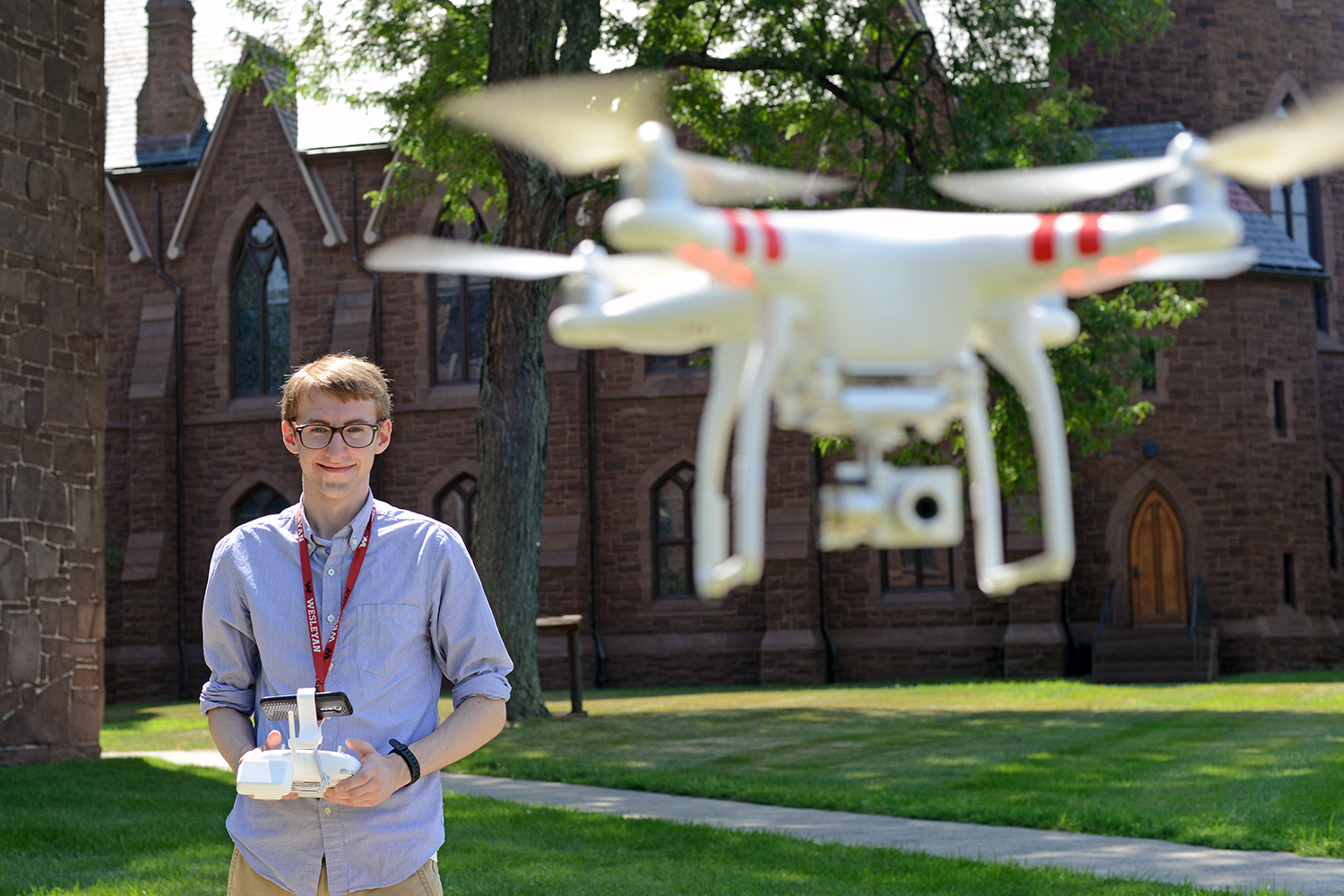 In this News @ Wesleyan story, we speak with David Schwartz from the Class of 2017.
Q: David, where are you from and what is your major?
A: I grew up in Amherst, Mass. When I first came to Wesleyan, I walked around wearing my Amherst sweatshirt for awhile before realizing there was a bit of a rivalry. I'm an Economics and Government double major, with a minor in data analysis. I'm particularly interested in applying "big data" techniques to government policymaking.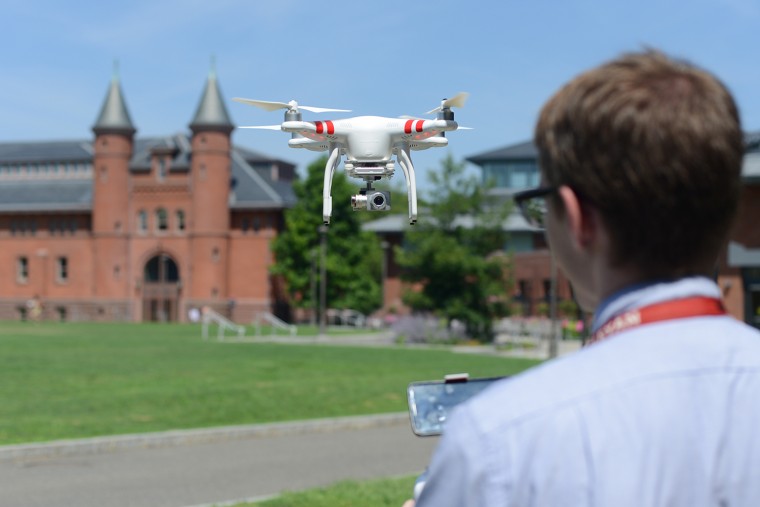 Q: You are founder and president of the Wesleyan Radio Control/ Drone Club. How did your interest in aerial photography begin?
A: I've always had a passion for flying, but unfortunately I get air-sick in small planes, so I've been able to apply my interest by being involved in the radio control community. Last summer, I spent my free time building an aerial photography quad copter and coding a basic auto-pilot system. For example, if the gyroscope was leaning left, the program would simply instruct the servos (motor) controlling the ailerons (parts on the wings that tilt the plane) to counter this movement until the plane was stable again. When I was able to stabilize the aircraft, I noticed that the camera on it was able to take some really clear photographs.
Q: Why did you decide to start the club? How many members do you have?
A: After telling my friends about my project building a drone last summer, they were very interested in getting involved, but the commitment for such projects is too high for students taking the rigorous course loads at Wesleyan. I decided to create a club with the WSA, and I was able to obtain funding to buy a very high-quality drone—the DJI Phantom 2 Vision+ — that was very user-friendly and intuitive to learn. The ready-to-use drone has made my interest more accessible and easy to share with the community.
The club started out with just a group of my friends, but has since grown to about 20 members. People would see us flying the drone on campus, and ask questions. Many wanted to try it themselves.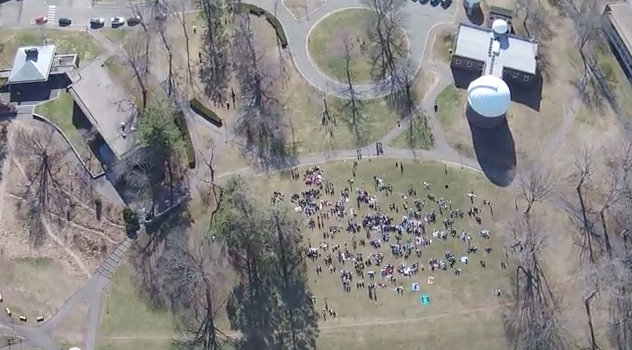 Q: How has the club used its drone?
A: We meet once a week and take the drone to different locations in the region. For example, we went Hubbard Park in Meriden and landed the drone on Castle Craig Tower, which sits atop a mountain. (See video here). The first time we did this, it was extremely scary because we couldn't see the drone; we could only see the image it broadcast back to our phone. It's terrifying to have a $1,200 device fly away from you, but it ended up working great. After we lost contact with it, five minutes later it just automatically returned to the take-off spot using GPS. It was very cool. We also took a trip to the Connecticut River and to Wadsworth Falls (video) in Middletown. We've flown above all the buildings on campus, too. It's fun to see what's on top of Exley and Hall-Atwater. Next year, we'd like to try to film some Wesleyan athletic events, or create an aerial campus tour for prospective students who aren't able to visit Wesleyan.
Q: You're taking part in the Quantitative Analysis Center's Summer Apprenticeship Program this summer. How did you get involved with the QAC? Please tell us about your summer research project.
A: Last semester, I was a teaching assistant for [Associate Professor of Economics] Chris Hogendorn in his "Economics of Big Data" class. I already had a strong statistical background coming into the program after doing epidemiology research in [Professor of Psychology] Lisa Dierker's "Applied Data Analysis" class, which is now available as a MOOC on Coursera, called "Passion Driven Statistics."
In the QAC Summer Apprenticeship Program, I worked with Professor Hogendorn to develop methodology for determining changes in Rail Intermodal Facility Capacity, a proxy for measuring infrastructure investment, using historical satellite images. We're looking specifically at investment in rail infrastructure at about 300 intermodal facilities—transitions between rail and another mode of transportation—across the U.S., between 1995 and 2000. We're currently processing these historical satellite images, which are made publicly available by the U.S. Geological Survey to create our own data. The end goal is to measure the extent to which wages change in different demographics, including, for example, how far away a person is from the infrastructure development, and how well-off their area already was.
Q: Tell us about your plans to study abroad in 2015-16.
A: During my junior year, I'll be studying abroad at the London School of Economics. My studies will focus on mathematical methods in economics. I really wanted to be abroad for a full year, because I felt like it wasn't possible to become fully immersed in a new culture and focus on your studies during a semester-long program. I've never been to London and I'm excited to see what it's like to live in the city.
Q: What do you want to do after graduation?
A: It's difficult to say how things are going to go, but right now my plan is to spend a few years at an economic consulting firm, and then go on to an MBA or other graduate program.
Q: What else are you involved in at Wesleyan?
A: I'm on the ski team, the rock climbing team and the sailing team.
Q: If a student wants to get involved in your club, how can s/he do that?
A: They can join our group on OrgSync (the WSA's club directory), or send me an email at drschwartz@wesleyan.edu.
See more videos taken from the drone here:
Foss Hill (video)
Holi Festival (video)