Badr '20 Guides Upward Bound Students to Write about Their Experiences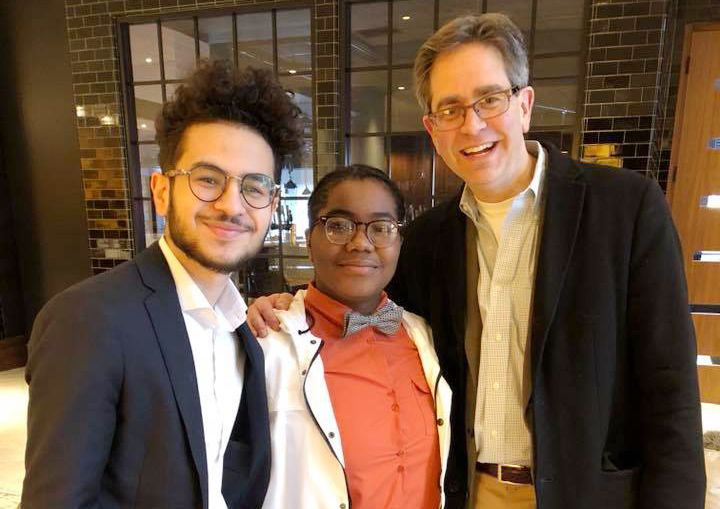 How did a young refugee from Iraq inspire a high school student from New Britain, Conn., to write a poem that went on to be performed by a 100-person choir made up of high schoolers from around the East Coast?
It all began at Wesleyan.
Ahmed Badr '20 was born in Iraq and came to the United States as a refugee in 2008, after his family's home in Baghdad was bombed by militia troops. As he struggled to adjust to life in the U.S., he started a personal blog to write about his experiences, and "found it incredibly empowering" to share his story.
"I soon began to realize the power of storytelling to inspire and bring people together," he wrote on his website, Narratio. Determined to empower other youth, he created Narratio to publish written work by young people around the globe. It has been recognized by the United Nations, We are Family Foundation, and featured on NPR and Instagram. Today, Badr is a sophomore at Wesleyan, studying anthropology and pursuing independent projects as an Allbritton Fellow and Patricelli Center Fellow, while continuing to run Narratio, which includes leading creative storytelling workshops for youth around the country.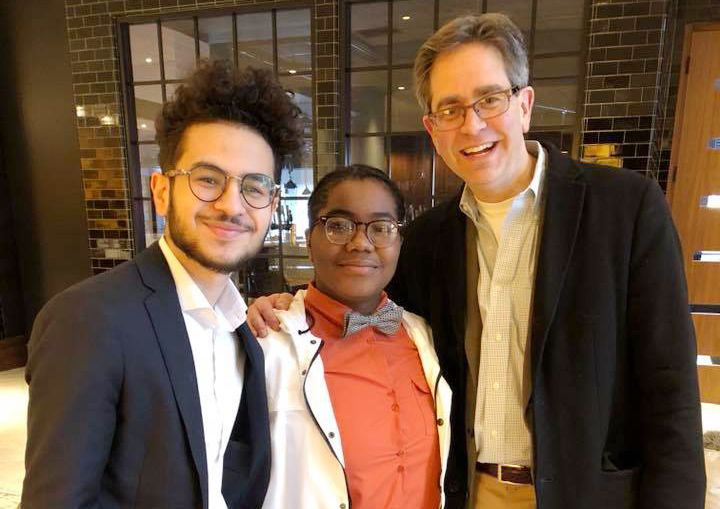 At Wesleyan, Badr became friends with Thafir Elzofri '19, a junior from Oakland, Calif., studying government, who is also a Patricelli Center Fellow. Elzofri is an intern at Wesleyan's Upward Bound Math-Science program, where he works with low-income, first-generation and underrepresented high school students from Middletown, Meriden, and New Britain. The program provides academic enrichment in math and science while helping to prepare the students for college through rigorous academic summer experiences, as well as ongoing academic enrichment and tutorial support, college visits, and support for college application and financial aid application processes.
When Elzofri overheard a high school junior in the program despairing over what to write about in his personal essay for college applications, he immediately thought of Badr and the Narratio project. He asked Badr to run a storytelling workshop for the Upward Bound students, and the two successfully pitched the idea to Miguel Peralta, Wesleyan's director of pre-college access programs and Upward Bound Math-Science, and Marek Mikunda, program coordinator for Upward Bound Math-Science and Collaborative Programs.
Makaela Kingsley '98, director of the Patricelli Center for Social Entrepreneurship, applauds the partnership. "This is an ideal outcome of the Patricelli Center Fellowship. Building coalitions and joining forces can be tremendously productive­—both for the students' own learning and for the communities they seek to impact. I credit Thafir and Ahmed for recognizing this opportunity and making it happen."
Badr held two Saturday workshops for Upward Bound students in spring 2017, reaching about 60 teens in all. Badr and Elzofri were thrilled with the turnout and the excitement level of the students.
"Everyone was so engaged, even more than usual for these types of programs, because it was such a personal exercise," said Elzofri. "We even had some family members attend, and they were really engaged as well."
"I don't think they knew what to expect, but they were really open-minded," said Badr.
The workshops involve a lot of discussions and sharing, as well as time for free writing. Badr uses written templates to prompt students to write about themselves. The Upward Bound students were asked to fill in the blank: "I am from ________"
"Based on my experience, this template and others usually bring out some very, very personal dynamics," said Badr.
Responses in the Upward Bound workshop ranged from "I am from a family of misunderstanding" to "I am from the generation of power" to "I am from dirty, smelly soccer cleats." Badr posts photos of young people with their templates on the Narratio website.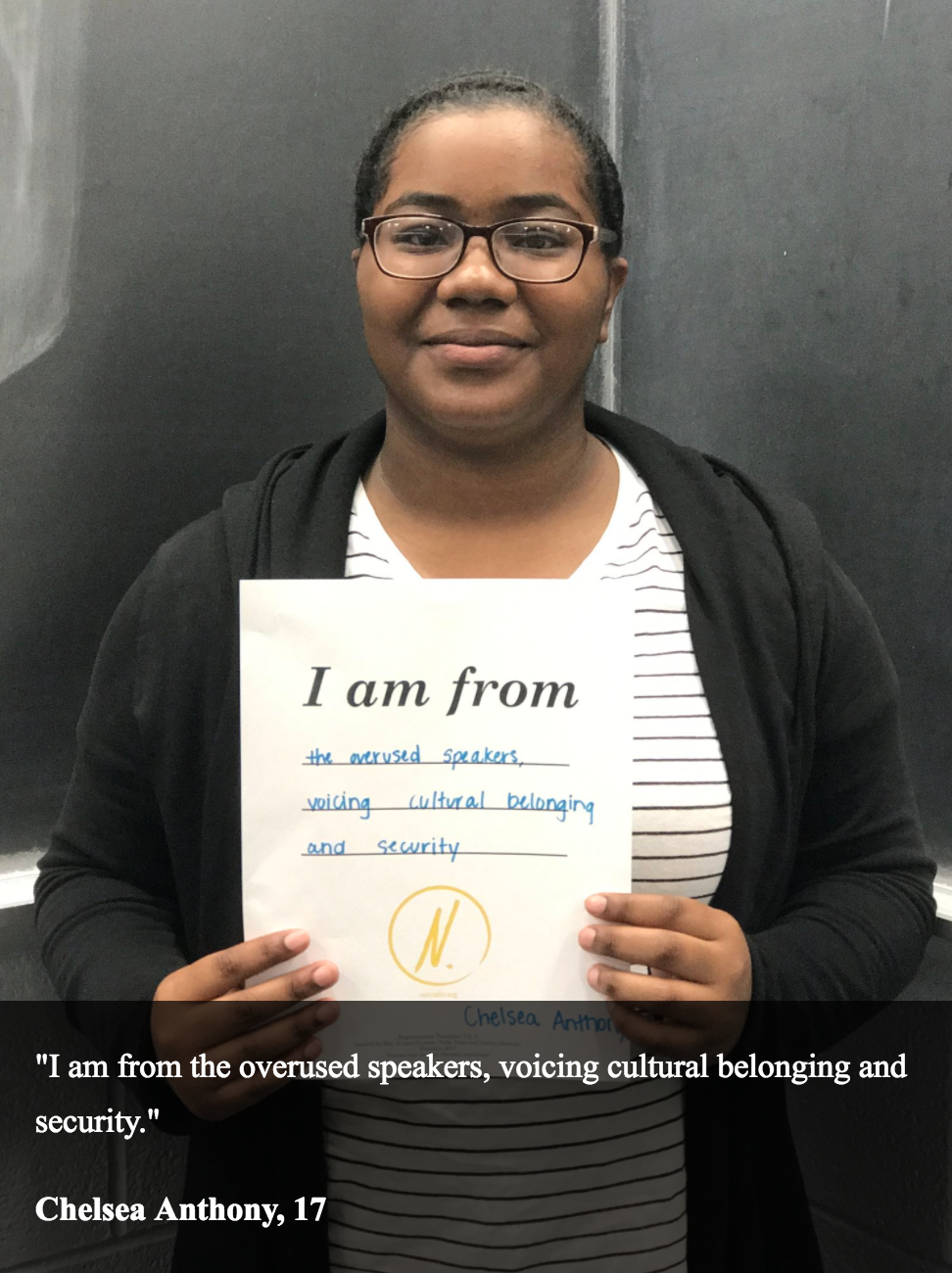 Chelsea Anthony, a high school junior from New Britain, wrote, "I am from the overused speakers, voicing cultural belonging and security." About a month after the workshop, she submitted her completed poem, titled, "I Am Me," to Narratio, where it was published. According to Elzofri, Anthony later used the poem as part of her college application essay. She was just accepted to the University of Connecticut-Storrs and plans to attend in the fall.
Right around the same time, Badr was contacted by Paul Rardin, the Elaine Brown Chair of Choral Music at Temple University. Rardin had heard Badr interviewed about Narratio on NPR, and asked him about using poetry published on Narratio for a piece he'd been commissioned to write for the American Choral Directors Association National Choir. Badr selected four poems published on Narratio to be used in the choral piece, including Anthony's "I Am Me" as the centerpiece. The finished product, called "Identities," was performed in Philadelphia in March 2018 by a 100-person choir made up of the best high school–aged singers from the East Coast.
Badr, Anthony, and Anthony's brother were flown out to Philadelphia to see the performance. Badr also led a storytelling workshop for all 100 students in the choir.
According to Badr, a publishing house is now interested in publishing and selling "Identities" commercially. A deal is in the works.
"I couldn't be prouder of Chelsea and her work; she is a testament to the true power of storytelling and I look forward to having her join the Narratio team as she begins her college journey," said Badr.
As he adjusts now to a new challenge—a busy life as a full-time student at Wesleyan—Badr is seeking to get others involved in helping him to run Narratio to carry the mission forward. He continues to speak about Narratio's mission around the world and get more young people involved, especially displaced youth in refugee camps.
Read more about the Upward Bound workshop and see photos of all the students on the Narratio website.