Students, Faculty, Alumni Present Research at 50th Annual Planetary Science Conference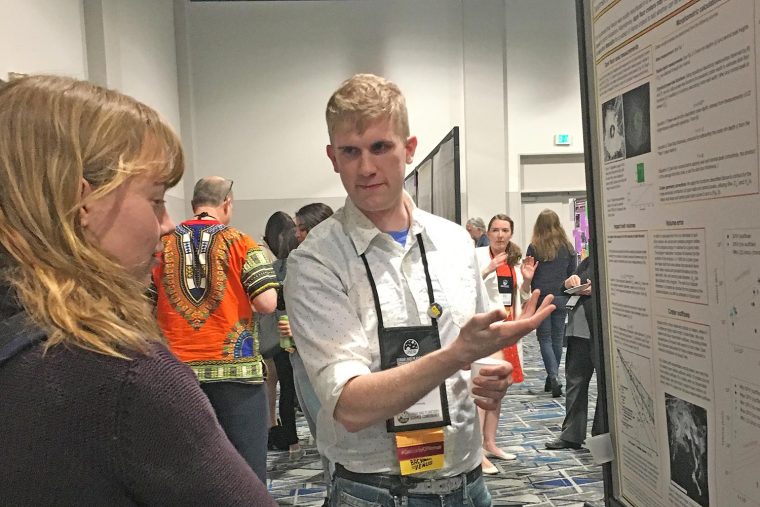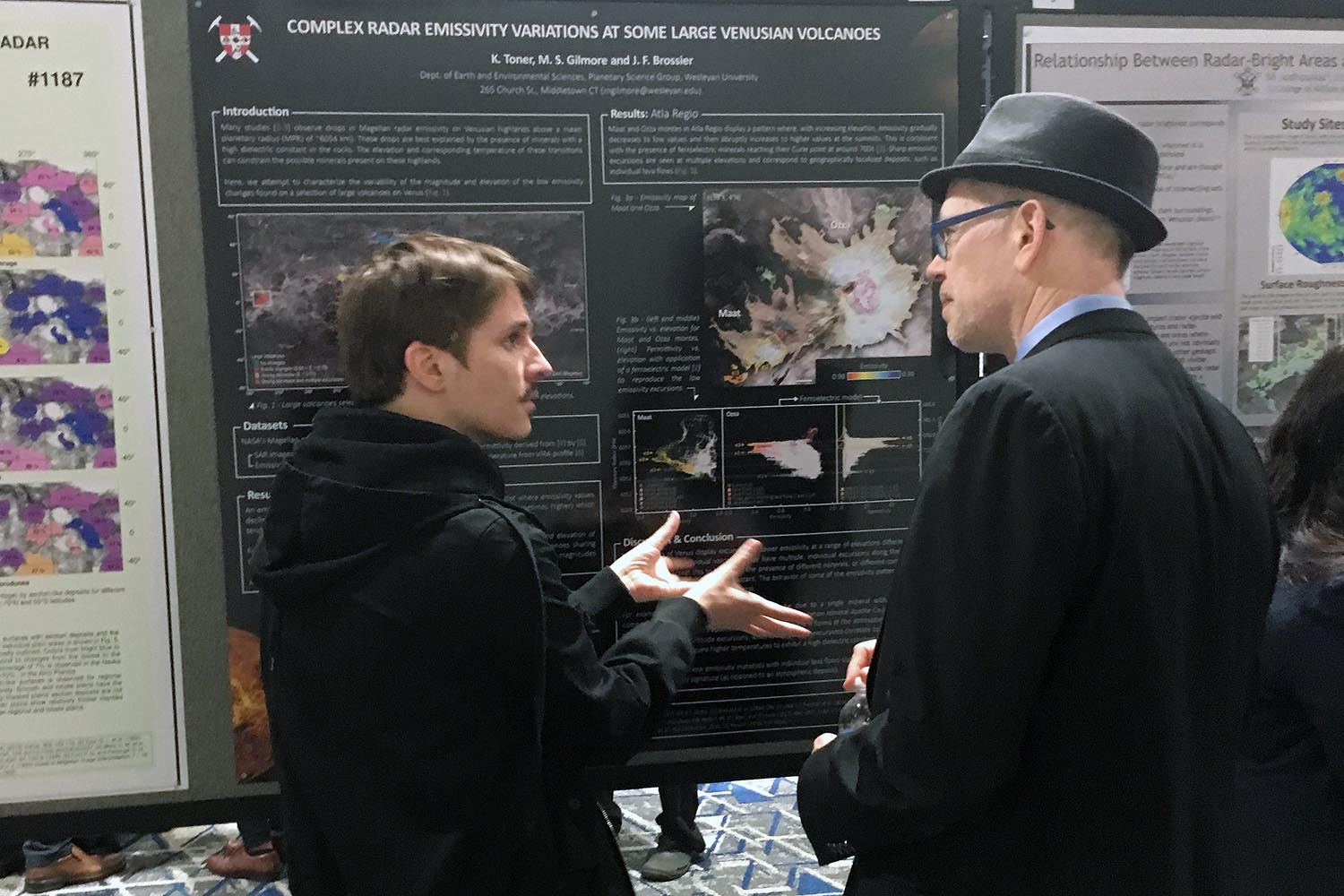 Several Wesleyan students, faculty, and alumni attended the 50th Lunar and Planetary Science Conference (LPSC) March 18-22 in The Woodlands, Texas. Members of the Wesleyan Planetary Sciences Group presented their research on a range of planetary bodies.
This annual conference brings together international specialists in petrology, geochemistry, geophysics, geology, and astronomy to present the latest results of research in planetary science.
Earth and environmental studies major Emmy Hughes '20 presented a poster titled "Observations of Transverse Aeolian Ridges in Digital Terrain Models" during a session on "Planetary Aeolian Processes."
Earth and environmental science graduate student Reid Perkins MA '19 presented a talk titled "A Reassessment of Venus' Tessera Crater Population and Implications for Tessera Deformation" and a poster titled "Volumes and Potential Origins of Crater Dark Floor Deposits on Venus."
Earth and environmental science postdoctoral research associate Jeremy Brossier presented a talk titled "Radiophysical Behaviors of Venus' Plateaus and Volcanic Rises: Updated Assessment." He also presented a poster titled "Complex Radar Emissivity Variations at Some Large Venusian Volcanoes," on which Katie Toner '20 was the first author.
Two University faculty attended the conference: Martha "Marty" Gilmore, George I. Seney Professor of Geology and professor of earth and environmental sciences; and James Greenwood, assistant professor of earth and environmental sciences.
Gilmore presented a talk titled "Variations in the Radiophysical Properties of Venus Tesserae: Could Be the Rocks? Could Be the Climate?" which focused on her work discerning and constraining variation of emissivity of ancient Venusian terrain called "tesserae," and was coauthored by Nicole Zalewski '20. Greenwood spoke on "Hydrogen Isotopes, Volatiles, and Refractory Trace Element Compositions of Melt Inclusions and Apatite in a Consanguineous Suite of Apollo 12 Olivine Basalts," which featured his research on hydrogen isotopes in lunar samples.
Alumni in attendance included Ben McKeeby MA '17, Jordyn-Marie Dudley MA '18, Kristen Luchsinger MA '17, Jesse Tarnas '16, Peter Martin '14, Miché Aaron '14, Keenan Golder MA '13, Nina Lanza MA '06, Ian Garrick-Bethell '02, Robert Nelson MA '69, and Richard Ernst '78.
In addition to presenting research and attending talks, conference-goers also had the opportunity to learn about the newest NASA initiatives at the NASA briefing, as well as pick up stickers and posters during the poster session. Gilmore attended meetings with NASA personnel regarding Venus mission planning.
Haikus and poems about presented research are a popular element of LPSC, and poems about both Perkins's and Gilmore's research were written and posted on Twitter by Zachary Burton of the Twitter handle @PlanetaryPoetry.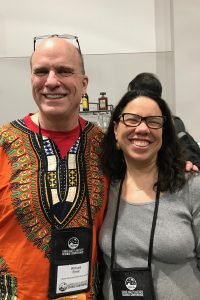 Perkins' poem reads:
"Authors assess features that are likely Venusian craters,
That is, features with impacts as their creators,
Some 18 candidates are ID'ed,
With implications for tesserae age, indeed."
Gilmore's poem reads:
"A microwave emissivity story: Venusian version.
Authors spot a significant excursion,
In emissivities of tesserae. What is it?
A ferroelectric mineral? Guess we'll have to visit!"
(Emmy Hughes '20 contributed to this article)
Additional photos of the conference are below: