Wesleyan Receives Mellon Grant for Pedagogical Innovation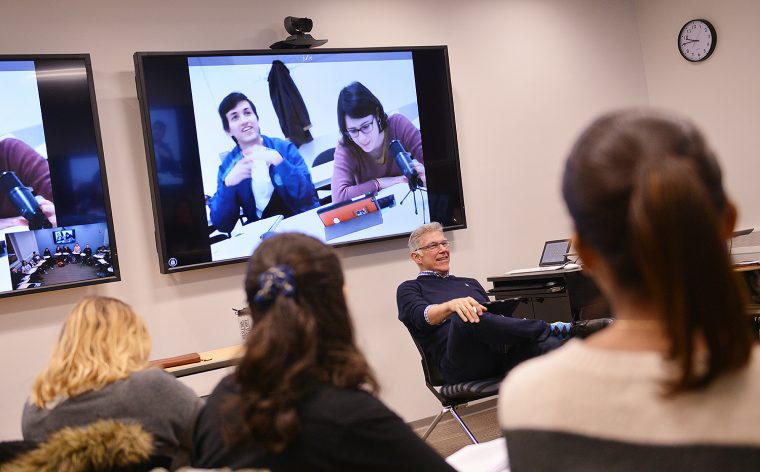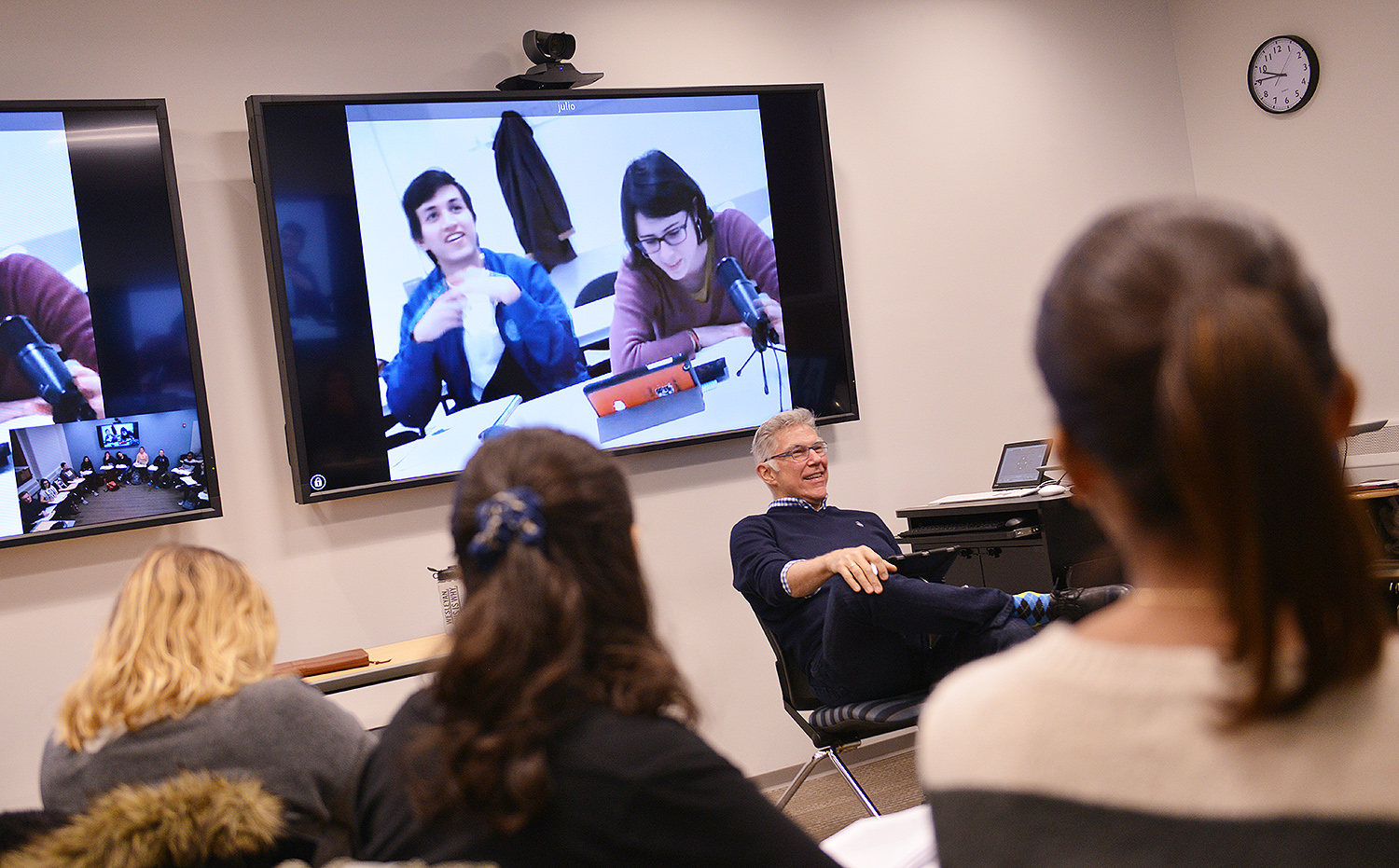 Antonio Gonzalez, professor of Spanish and director of the Center for Global Studies, is comfortably seated in front of a semicircle of 11 students. He holds an iPad Pro that controls two large screens on the wall behind him and enables him to move effortlessly, seamlessly from Google Maps, to video clips, to text he can annotate on the iPad. All the while he converses in Spanish with his students about a movie that tells the story of a Moroccan woman repatriating the body of her brother after he died crossing the Strait of Gibraltar in a small boat.
In another class, Gonzalez and a colleague in Madrid co-teach with the help of high-quality videoconferencing technology. (See article.)
"You can't believe what a success my trans-Atlantic classroom arrangement has become. It was as if the students in Spain were here with us," says Gonzalez. In one class, students in Spain conversed with peers in Middletown about why certain homicides in Ciudad Juarez had not been classified as terrorism. "Talk about interculturalism!"
Technology is helping Gonzalez to teach differently and more effectively. And that's one goal of the Center for Pedagogical Innovation and Lifelong Learning (CPI), which has been working with faculty members on new techniques and pedagogical strategies.
Now the Andrew W. Mellon Foundation has given the CPI a major boost with a $750,000 grant to fund its activities for the next four and a half years. Created in the 2014–15 academic year, the CPI arose from faculty desire to acquire new pedagogical tools and strategies that would improve learning outcomes, help students from diverse backgrounds, take advantage of technological advances, and instill habits of lifelong learning.
Its offices are in Fisk Hall, in space renovated last summer as part of a $3.5 million project to provide a home for the CPI and the Center for Global Studies. The space includes three technology-intensive classrooms, a demonstration classroom for evaluating new pedagogies, a project-based learning classroom, and a new classroom with enhanced distance-learning capabilities.
"Faculty at Wesleyan are noted for bringing creative approaches to teaching, and through the CPI, we can provide sustained support for testing and deploying new strategies, for developing novel programs, for sharing insights, and for mentoring students," says Joyce Jacobsen, provost and vice president for Academic Affairs. "We're so grateful to the Mellon Foundation for supporting innovation in pragmatic liberal education, and we look forward to the many benefits Wesleyan and higher education generally will derive from the CPI."
Among the current areas of focus for the CPI are:
• An Active Learning Community. A cohort of 10 faculty are meeting this spring to focus on pedagogical approaches such as project-based learning. Each faculty member will develop a course plan that will focus on outcomes and assessments of effectiveness. For example, Royette Tavernier, assistant professor of psychology, is designing a course on Adolescence and Emerging Adulthood. As a believer in the value of students sharing personal stories as part of the learning process, she is developing a "Cross-Cultural Class Assignment" in which students will interview a peer from a different cultural environment on the topic of loneliness – an assignment that includes assessments of loneliness on a standardized scale, a video recorded interview with a cross-cultural partner, and a written reflection.
• A Seminar on Race and Pedagogy. To be led next fall by Amy Tang, associate professor of English and of American studies, this seminar will be the first in a series of offerings over the next five years to help faculty develop inclusive classrooms. The intent is to help faculty develop strategies for fostering conversations around race across the disciplines and, secondly, to provide an environment for faculty to share new approaches for furthering critical thinking about race and ethnicity in the classroom.
• Universal Design for Instruction. Fostering inclusive learning environments by minimizing the need for special accommodations for students with disabilities, universal design for instruction operates on the premise that the planning and delivery of instruction, as well as the evaluation of learning, can incorporate inclusive attributes that embrace diversity in learners without compromising academic standards.
• Design and Engineering. The CPI is helping to develop this as a new area of interdisciplinary study at Wesleyan, and plans call for one CPI Fellow to focus on this work during the next two years.
The CPI will collaborate with other educational institutions whose faculty are interested in pedagogical innovation, and will contribute to the national dialog on this topic through publications and conference presentations.
Dan Mercier, instructional design director of the CPI, says the program is "unusual in its focus on the academic side, and not just in technology. Our goal is to help faculty improve learning outcomes for all students, using whatever tools will make a measurable difference."