Wesleyan Awards 763 BA Degrees at 187th Commencement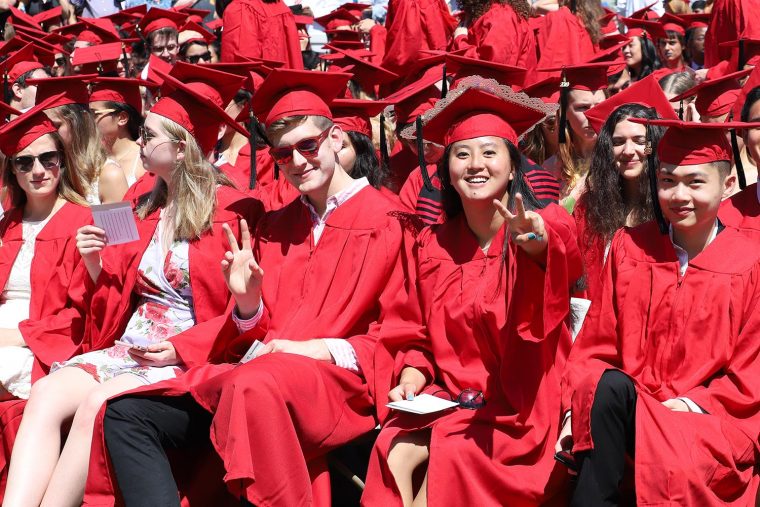 Graduates, their families, and other members of the Wesleyan community gathered on Andrus Field for the 187th Commencement ceremony on warm, sunny Sunday, May 26. Wesleyan conferred 763 bachelor of arts degrees; 44 master of arts degrees; 22 master of arts in liberal studies degrees; and 11 doctor of philosophy degrees. (Watch the entire Commencement ceremony online here.)
Saidiya Hartman '84, professor of English and comparative literature and women's and gender studies at Columbia University, delivered the Commencement address and received an honorary degree. Renowned for her creative combinations of historical research, critical theory, and fictional narrative in exploring "the afterlife of slavery" and its negative effects on the life chances of black Americans, Professor Hartman has been a Cullman Fellow, a Fulbright Scholar, and a Whitney Oates Fellow, and is also the former director of the Institute for Research on Gender and Sexuality.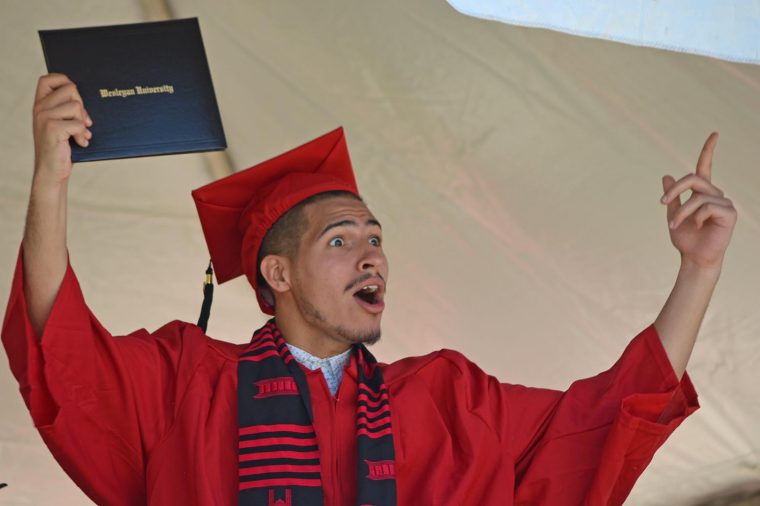 "Today, we honor you because of what you have achieved and where you have arrived, and we rejoice at the promise signaled by this graduation, which is a step in a process, a transformation, a condition, a change from one state to another, a turn in the road, a pause or rest in the process of becoming," Hartman said. "We rejoice today in anticipation of where you might be headed and the world you might remake."
Honorary degrees were also presented to Hazel V. Carby, who taught English at Wesleyan from 1982 to 1989 and is the Charles C. and Dorothea S. Dilley Professor of African American Studies, professor of American Studies, and director of the Initiative on Race, Gender and Globalization at Yale University and to Reverend Edwin C. Sanders II '69, the senior servant and founder of Metropolitan Interdenominational Church in Nashville, Tennessee, whose mission is to be "inclusive of all and alienating to none."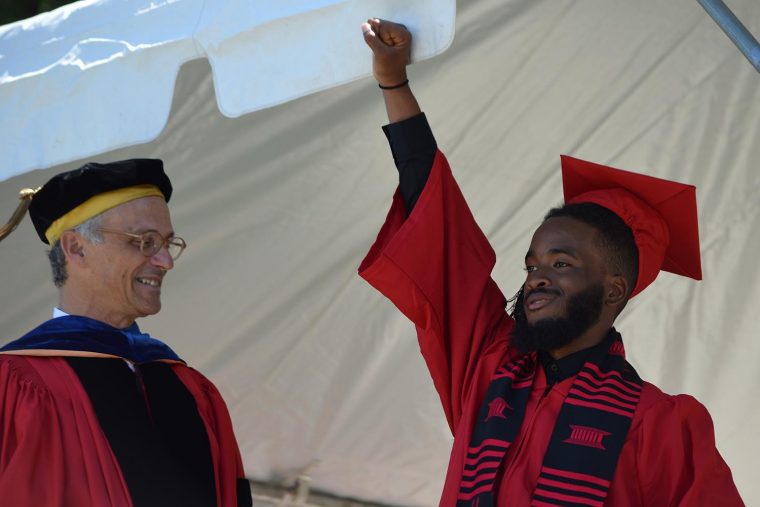 In his address, President Michael Roth '78 said: "A campus is the place to have one's ways of thinking tested—not just protected. If we are to repair our public life, we must develop habits of mind and spirit that allow us not just to celebrate diversity, but to learn from difference."
Samuel Morreale '19, who acknowledged Hartman as an inspiration for his remarks, delivered the senior class welcome, saying: "I have a determination to use this newfound power graced by Wesleyan to make more space for myself and for others, and I hope that the Class of 2019 will offer the same space to the education we have been afforded."
Erika Franklin Fowler, associate professor of government; Brian Northrop, associate professor of chemistry; and Joseph Siry, Kenan Professor of the Humanities and Professor of Art History, received the Binswanger Prize for Excellence in Teaching. These prizes, made possible by gifts from the family of the late Frank G. Binswanger Sr., Hon. '85, underscore Wesleyan's commitment to its scholar-teachers, who are responsible for the University's distinctive approach to liberal arts education.
In addition, six Wesleyan faculty, who announced their retirement in 2018, were honored at the ceremony. Those faculty include: Douglas K. Charles, professor of anthropology (2000–2019); Ronald Ebrecht, University organist (1988–2019); Laura B. Grabel, Lauren B. Dachs Professor of Science and Society (2008–2018); Patricia R. Hill, professor of American Studies (2011–2018); Krishna R. Winston, Marcus L. Taft Professor of German Language and Literature (2006–2019); Gary W. Yohe, Huffington Foundation Professor of Economics and Environmental Studies (2011–2019).
The full Reunion & Commencement photo gallery is here.
The text of Saidiya Hartman's remarks is here.
The text of Hazel Carby's remarks is here.
The text of Rev. Edwin Sanders's remarks is here.
The text of President Michael Roth's address to the Class of 2019 is here.
The text of Samuel Morreale's senior welcome is here.
Information on the Binswanger Awards for Excellence in Teaching is here.
Information on the honorary degree recipients is here.
Information on the Baldwin Medal is here.
Information on alumni receiving Distinguished Alumni, Outstanding Service, and McConaughy awards is here.
The 187th Commencement ceremony was held in conjunction with Wesleyan's Reunion & Commencement Weekend.
Additional photos of the 187th Commencement ceremony are below: (Photos by Rich Marinelli, Tom Dzimian, and Bruce Williams)