Wesleyan in the News: October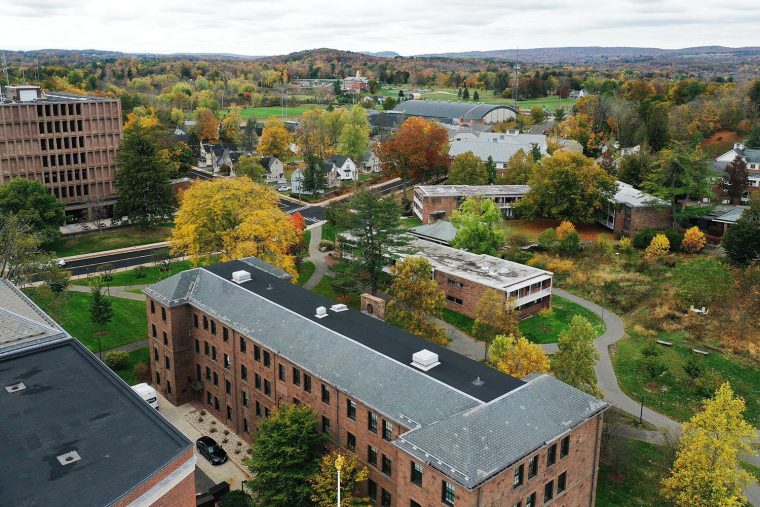 The Los Angeles Review of Books reviewed a book recently published by President Michael S. Roth '78, titled The Student: A Short History—which explores what it means to be a student over the years. "[Roth's] self-described 'pragmatic idealism' is hardly a battle cry, but it is exactly what we need more of," writer Todd Shy said.
Roth joined PBS Newshour on Oct. 24 for a segment on how colleges have responded to the Supreme Court's decision to end race-based admissions. "This summer, when I read the Supreme Court opinions … I thought to myself, how could we continue this practice? How could we give an advantage just because of who your parents were?" Roth said.
Roth spoke to Chronicle for Higher Education for a piece on how college presidents have responded to the Israel-Hamas. Roth said he tries "not to talk much in the political register. But as educators, we should speak clearly on things of importance." 
Inside Higher Ed conducted a poll asking college presidents whether they supported the Supreme Court's decision to end race-informed admissions—68 percent opposed the decision. Roth explained his opposition of the ruling and some of the ways Wesleyan intends to continue to recruit a diverse applicant pool. 
In a piece for MSNBC, Associate Professor of Sociology Robyn Autry wrote about Will Smith and Jada Pinkett Smith's status as a Black power couple following news that the duo have been separate since 2016. "They are not just celebrated as exemplars of Black public life; they are seen as the vanguard shaping it," Autry wrote. 
Jeanine Basinger, Corwin-Fuller Professor of Film Studies, Emerita, and Sam Wasson '03 combined to have three books featured on The Hollywood Reporter's "The Greatest Film Books of All Time." Wasson and Bassinger each had a solo title listed. Wasson's "The Big Goodbye: Chinatown and the Last Years of Hollywood" tied for 38th of 100 titles and "The Star Machine" tied for 83rd. The two co-authored "Hollywood: An Oral History," released in 2022, which landed at T-76 on the list. 
ESPN featured how Jacksonville Jaguars tight end Evan Engram's work with former Wesleyan quarterback Drew Leiberman '13, his personal coach, has transformed his on-field play this NFL season. Since they began to work together in March of 2021, Engram's confidence and performances have skyrocketed—which he has parlayed into a lucrative extension with the Jaguars. Leiberman is the founder and CEO of The Sideline Hustle, a wide receiver training and media company that works with players from all levels of college and professional football. 
Recent MacArthur genius grant recipient Ian Bassin '98 appeared on Slate's "Amicus" podcast with Dahlia Lithwick. The co-founder of Protect Democracy, a pro-democracy non-profit, joined the show to look at the stakes of this political moment—where conservatives are struggling to appoint a Speaker of the House of Representatives and former President Donald Trump and his allies are mainstays in the nation's courtrooms. 
Associate Professor of Government Logan Dancey and his research were quoted in a New York Times op-ed on the current state of the House Speaker situation. Dancey, who co-authored a paper titled "A Good Partisan? Ideology, Loyalty and Public Evaluations of Congress" this year, gave his insight on the potential fallout for a Republican in a majority Democrat district would experience voting for Rep. Jim Jordan.
Musician and Wesleyan graduate student Nick Hallett directed a reconstructed performance of the late Arthur Russell's "City Park," on Sept. 30 at the New York City AIDS Memorial, according to the New York Times. Russell, a prolific recording artist who published little of his work, died of AIDS in 1992. Hallett was a longterm admirer of the artist and when presented the opportunity to revive his music, he jumped at it.
Assistant Professor of Art Ilana Harris-Babou did a Q&A with Surface Magazine on her two new shows in Manhattan. The first exhibition, "Under My Feet," opened on Oct. 7 at the Storefront for Art and Architecture—the installation delved into her childhood growing up in Central Brooklyn and feelings of belonging and home. She will also display "Needy Machines" at Candice Madey on Rivington Street from Nov. 3 to Dec. 16. The wall-based sculptures and videos explore "the emotional and physiological entanglement of wellness marketing, AI-powered smart homes, and consumer product design on perceptions of self and metrics of health." 
Director Sara Dosa '05 and producer Shane Boris, who created Oscar-nominated Fire of Love, landed a first-look production deal with National Geographic Documentary Films, according to Deadline. Dosa and Boris are currently developing two new film projects through their newly- inted production company, Signpost Pictures. 
Roberta Pereira '03 joined The Immigrant Theatermakers Advocacy initiative as an advisory council member. The group will work with industry institutions to help fight xenophobia and create programs that welcome immigrants to the arts, according to BroadwayWorld. 
Theatermaker and director Sivan Battat '15 visited the The ACES Educational Center for the Arts Greater in New Haven, her alma mater, to speak to students about her journey and upcoming show Wish You Were Here by Pulitzer Prize-winner Sanaz Toossi, according to the Greater New Haven Arts Council. The play, which tells the story of a group of Iranian women trying to live a normal life during the 1978 protests in the country, will run at the Yale Repertory Theatre through Oct. 28. 
Wesleyan's decision to no longer offer student loans in its financial aid packages, removing a barrier to the affordability of its education, was highlighted by the Connecticut Mirror on Oct. 9. Vice President and Dean of Admission and Financial Aid Amin Abdul-Malik Gonzalez '96 was interviewed about the policy and said, "We believe this impact will be significant for families who have felt the burden of borrowing in prior years."
Jon Fosse's "A Shining," was awarded the Nobel Prize for Literature. The novel was translated to English by Damion Searls, Distinguished Writer-in-Residence at the Shapiro Center for Creative Writing and Criticism. Searls was quoted in The New York Times pointing to a feeling of serenity throughout Fosse's work—which spans novels, plays, and poetry. "One of the key words he uses to talk about his fiction is peace," Searls said. "There's a real peacefulness in it, even though stuff happens, people die, people get divorced, but it radiates this serenity."
Merve Emre, Shapiro-Silverberg University Professor of Writing and Criticism, gave readers of The New Yorker a glimpse into her experiences at the preview of Fosse's "I Svarte Skogen Inne" ("Inside the Black Forest"). The play was performed in its original Norwegian, which Emre does not speak, she said "I did not understand the words as they were being spoken. It was strange to realize how little this mattered."
Emre references the Swedish Academy description of Fosse's work as giving "voice to the unsayable." Emre said, "what I think the Academy meant is that, across his forty-odd plays, his novels, his essays, and his children's books, what is unsayable—the absolute depths of abandonment, shame, love, and grace—is felt without needing to be named, surpassing the mere arrangement of words on a page."
The New York Times reviewed "Job" by playwright Max Wolf Friedlich '17, which runs at the SoHo Playhouse from Sept. 6 to Oct. 29, and named it a "NYT Critic's Pick." The story surrounds two characters, a crisis therapist named Loyd and his patient Jane, who is in for a psych-evaluation following a breakdown at work. The show is currently sold out.
Roberta Pereira '03 was named the executive director at the New York Public Library for the Performing Arts, following an eight-year stint as the executive director of the Playwrights Realm, according to The New York Times. Pereira, who has had a long-term career goal to make the arts accessible to all, is the first Latino person to lead the library in its history.
Rob Rosenthal, John E. Andrus Professor of Sociology, Emeritus, wrote a piece for CNN on the impact of the then-impending, and now delayed, government shutdown on federal workers who would not have been paid for their work had there not been a 45-day extension to negotiations. All the while, U.S. representatives and senators in Congress would have still been paid since they are constitutionally obligated to be paid while in office. "The very people who are causing the government shutdown will not suffer the consequences," Rosenthal wrote.
Plastics Chemist and Assistant Professor of Chemistry and Integrative Sciences Benjamin Elling was quoted in a Connecticut Post story on a University of Connecticut student trying to naturally grow surfboards in place of the typical Styrofoam. Plastic foams are generally difficult to recycle, Elling said, since they're made up largely of air. Little material can be recovered from the foams, so there is little economic incentive to recycle them.
Elling was also quoted in the Hartford Courant for a story on the quality of drinking water in Connecticut. Elling said perfluoroalkyl and polyfluoroalkyl substances (PFAs), harmful chemicals, are difficult to break down naturally. 
Assistant Professor of Art Kate TenEyck's "Tunnel Vision" project in Harbor Park was highlighted by the Connecticut Post. The project will highlight the city's history dating back over 200 million years, including replicas of indigenous artifacts found in the area from 11,000 years ago.
Assistant Professor of Theater Maria-Christina Oliveras' was interviewed on ABC 7's Mid-Day Live about her lead role as Persephone in the production of "Hadestown" at Orpheum Theatre in San Francisco.
The Texas Legends, G-League Affiliate of the Dallas Mavericks, hired Leo Clibanoff '23 as a Basketball Operations Associate for this upcoming season. Clibanoff served the past four years as a student assistant coach on of Men's Basketball Head Coach Joe Reilly's coaching staff.