Wesleyan Awards 799 BA Degrees at 183rd Commencement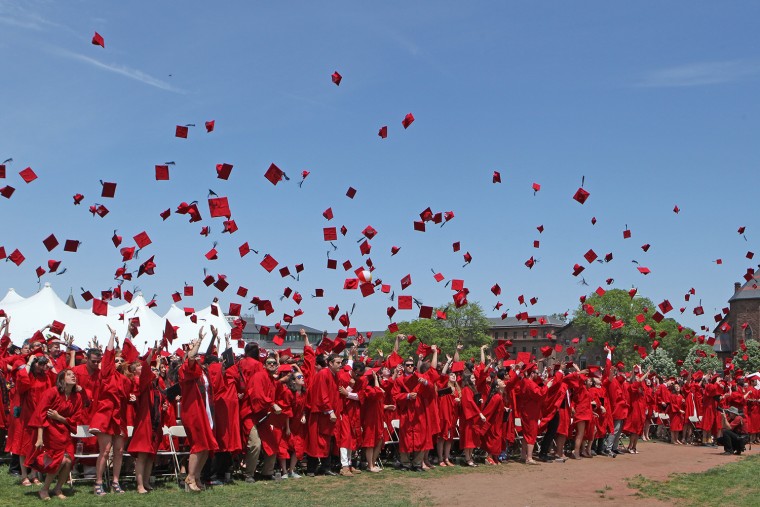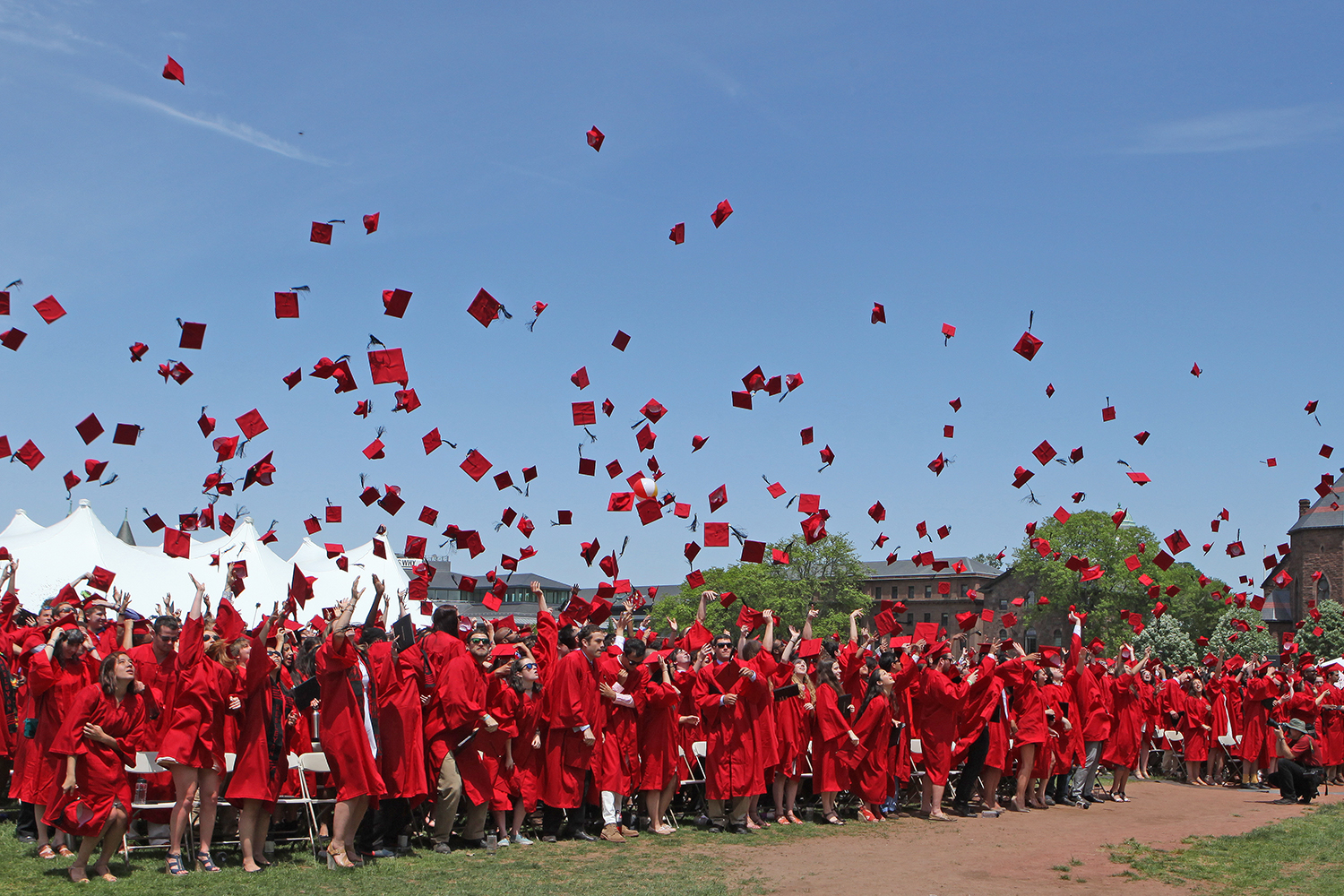 Graduates, their families, and other members of the Wesleyan community who gathered for the 183rd Commencement ceremony on May 24 were treated to some life advice in the form of rap, courtesy of Lin-Manuel Miranda '02, this year's Commencement speaker and the composer, lyricist and star of the hip-hop musical Hamilton.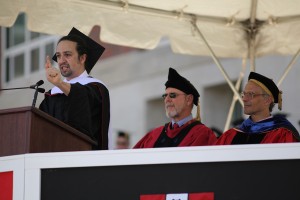 "I'm going to sing a little bit, so if you made a bet that I'd be rapping during the Commencement address, your friend owes you money," Miranda joked.
He drew upon the stories of Alexander Hamilton and Aaron Burr to discuss two different approaches to life: charging forward in the spirit of Hamilton—"I'm not throwing away my shot"—versus holding out for just the right moment to take action–"Wait for it, wait for it, wait for it."
Miranda spoke of falling in love with the "instant gratification" of theater at Wesleyan. "You're telling me I can write something in the fall, apply to Second Stage, get a budget and put it up in the spring? I am not throwing away my shot!" He was "keenly aware" of the hard work and sacrifices his parents made to put him through college, increasing the pressure he felt to make his mark.
It was during his sophomore year that Miranda wrote In the Heights in three weeks. "I was bursting with ideas, inspired by my housemates at La Casa, and I couldn't set them to music fast enough," he said.
"I wish I could tell you that the key to life beyond Wesleyan was as simple as saying to yourself, I am not throwing away my shot. To be like Hamilton, to charge forward and chase what you want," said Miranda."But in reality, it took eight years of hard work to take that 80-minute one-act from Second Stage into the version that opened on Broadway. Eight years for the guy who fell in love with theater because of the instant gratification." That production went on to win four Tony Awards for Best Musical, Best Original Score, Best Choreography, and Best Orchestrations.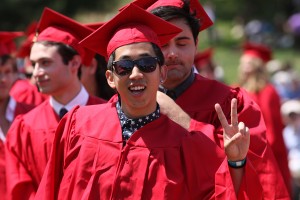 Miranda concluded by telling the graduates, "In reality, you're always going to be rushing and waiting at the same time. You will pack your things to leave tomorrow while savoring every moment of today. You'll chase down your friends to say goodbye, but know that the ones who matter the most will be in your life for the rest of your life. You picture where you'll be in five years, but the world might change around you while you're buying a Bob Dylan album. You take out a second mortgage and work seven days a week so four years later, you can cheer the loudest when they call your child's name at graduation. You hold the present in your hand as tight as you can while your other hand reaches out for more."
Read the full text of Miranda's speech here, and see a video here.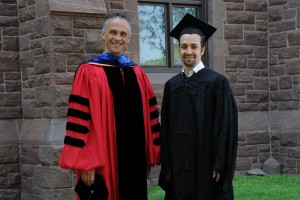 Wesleyan conferred an honorary doctor of humane letters upon Miranda. Also honored with honorary degrees were Beverly Daniel Tatum '75, president of Spelman College and a pioneer in race relations, and Michael P. Price, who served as executive director of Goodspeed Musicals for 46 years, overseeing artistic and business affairs for the company. Read more about the honorary degree recipients here.
This year, Wesleyan conferred 799 bachelor of arts degrees; 29 master of arts degrees; 35 master of arts in liberal studies degrees; and 16 doctor of philosophy degrees.
Three faculty members were honored with the Binswanger Prize for Excellence in Teaching: Michael Calter, professor of chemistry, David Schorr, professor of art, and Gina Athena Ulysses, associate professor of anthropology. These prizes, made possible by gifts from the family of the late Frank G. Binswanger Sr. Hon. '85, underscore Wesleyan's commitment to its scholar-teachers, who are responsible for the university's distinctive approach to liberal arts education.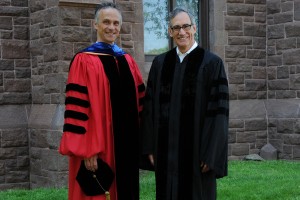 In addition, Alan Dachs '70, Hon. '07, P'98 was awarded the Raymond E. Baldwin Medal, the highest honor presented by Wesleyan's alumni body for extraordinary service to Wesleyan or for careers or other activity which have contributed significantly to the public good. Dachs is president, chief executive officer, and director of Fremont Group, a San Francisco-based investment firm. His remarkable record of service to Wesleyan over more than two decades has included leadership of the presidential search committee that resulted in the selection of Douglas Bennet as the university's 15th president, and 14 years as a trustee, including eight as chair of the Board. Read more about Dachs here.
Also recognized were nine retiring faculty members, who were given emiriti status.They are: John Carr III, professor of theater; J. James Donady, professor of biology; Richard Elphick, professor of history, tutor in the College of Social Studies; Brian Fay, the William Griffin Professor of Philosophy, tutor in the College of Social Studies; Gale Lackey, adjunct professor of physical education, physical education coordinator, head coach of volleyball; Laurie Nussdorfer, the William Armstrong Professor of History, professor of letters, professor of medieval studies; George Petersson, the Fisk Professor of Natural Science, professor of chemistry; Vera Schwarcz, the Mansfield Freeman Professor of East Asian Studies, professor of history; and Ann Wightman, professor of history.
In his address to the graduating class President Michael Roth remarked on Wesleyan students' activism in speaking out against injustice they see in the world, and on campus.
"I know that my colleagues and I have been inspired by student demands that we make this campus a place free from sexual assault, a place where it is clear that black lives matter because all students, faculty and staff feel they are treated with respect, a place where we recognize our responsibility for the environment that will sustain us only if we stop poisoning the earth," he said.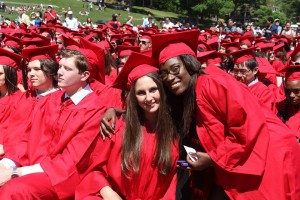 Roth added, "We must not protect ourselves from disagreement; we must be ready to be offended for the sake of learning, and we must be ready to give offense for the sake of disrupting ideas unworthy of preservation. Education worthy of the name is risky–not safe. Education worthy of the name does not hide behind a veneer of civility or political correctness, but instead calls into question our beliefs."
Roth also acknowledged the first-world nature of these challenges. "For many beyond the borders of our campus, education of the most basic kind is still out of reach. In our country, education is less and less a vehicle for social mobility and more and more a vehicle for cementing social privilege." And around the world, "education is threatened along with basic rights of free speech. Girls are kidnapped, raped and murdered because they want to go to school."
Roth called upon the graduates to use their education to help "shape our culture, so that it will not be shaped by the forces of violence, conformity and elitism. We are counting on you because we have already seen what you are capable of when you have the freedom and the tools, the mentors and the friendship, the insight and the affection to go beyond what others have defined as your limits."
In her Senior Class Welcome, Marissa Castrigno '15 spoke about that which sets Wesleyan students apart: the ability to think critically and to see flaws in the world. "Our community is a stronghold of dialogue, of passion, of intelligence—an invaluable asset to each of us as individuals." Now that the Class of 2015 is separating from campus, she said, "we are leaving each other but not losing each other. We are leaving Wesleyan but not losing Wesleyan. […] We remain loyal to each other. We spend our final moments reveling in the company of our friends, the mentorship of our professors, the challenges of both, the joy of it all. We are not starting over, but starting anew."
The full Reunion & Commencement photo gallery is here. The Commencement gallery is here.
The text of Lin-Manuel Miranda's ('02) address is here, and a video is here.
The text of Beverly Daniel Tatum's ('75) address is here.
The text of Michael P. Price's address is here.
The text of President Michael S. Roth's address to the Class of 2015 is here.
The text of the senior class welcome by Marissa Castrigno '15 is here.
Information on the Binswanger Prize for Excellence in Teaching recipients is here.
See all videos from R&C weekend here.