Rapture, a new eight-part docu-series on hip-hop that premiered on Netflix March 30, features Ben Selkow '96 as executive producer, showrunner, and one of the directors. It is art with an overarching purpose: "We hope to bring audiences and fans closer to the artists' experience by sharing their biography and showing the perseverance, talent, and luck that helped each transform and transcend their situation," says Selkow, a film studies and African American studies major while at Wesleyan, who previously directed Reza Aslan's CNN series Believer. After returning from the SXSW film and music festival in Austin, Texas, where the team showcased several episodes of Rapture, Selkow discussed the project.
Connection: What drew you into this project and made it personally compelling?
Ben Selkow: Netflix wanted to collaborate on a new hip-hop project with Mass Appeal, an on-the-rise culture media and content company. A Netflix executive introduced me to Mass Appeal's Sacha Jenkins and Peter Bittenbender, who needed an executive producer and showrunner. We got on really well from jump—and spent the next 18 months conceiving, refining, staffing, shooting, editing, finishing, and promoting Rapture.
I was drawn to it on many levels. I've been listening to hip-hop since my first Beastie Boy, Ice-T, KRS-One, Big Daddy Kane, and Public Enemy tapes—yes, tapes! And at Wesleyan, I continued my education in hip-hop with Javaid Khan (DJ Van Vader) '96, Phil Jenkins (DJ Casual Phil) '96, Jason Rosado '96, and my man Jake Sussman '96 making me mixtapes, as well as partying at [Malcolm] X house, while Matt Dickerson (DJ Denmark) '95 was spinning. And then—beyond my love of the music, the culture, the politics, and its growing power of expression and American reporting—I really dug Sacha and Peter. Of course, the opportunity to work with Netflix and connect with audiences in 190-plus countries/117 million subscribers was a dream.
Connection: What was your role on the project and what were your biggest challenges?
Ben Selkow: As showrunner and one of the executive producers, I worked with all our specialists in each area, leading the charge—from conception to the talent casting, to the aesthetic look, to team staffing, to legal, to music supervision, to running everything with our amazing post-production team and doing the general crisis control. I also directed the episode with 2 Chainz.
As for challenges, we had no proof of concept as this was Season 1, so the initial casting was the first challenge. We wanted a diverse group of artists and we were trying to compel the artists to entrust their stories with us. We were also making big asks for their time—not just an interview and some B-roll, but we wanted to do longitudinal, observational cinema, which makes for totally unique narratives. But we were able to earn a tremendous amount of trust with all the artists. Then the challenge was keeping up with their kinetic lives and building narratives. In the end, it was both a relief and incredibly exciting to watch the artists' reactions once we screened their episodes with them. Sitting in a screening room with Nas, Just Blaze, or 2 Chainz and hearing that they loved it and thanked us…. Man, amazing feeling.
Connection: Why is this piece important? What do you think are the most important points you are bringing to the world?
Ben Selkow: By selecting a wide breadth of artists who range aesthetically, regionally, generationally, racially, and gender-wise—as well as including a super producer—Rapture paints the portrait of hip-hop as a diverse, complex, and wildly dynamic music universe. By offering an immersive view of the artists' personal lives—beyond just seeing them as superstars—we are afforded the privilege of witnessing the artists' humanness and mortality, as well as seeing what it is to live a life of an international celebrity.
We hope that Rapture illuminates some of the misconceptions about hip-hop and rap culture. For so long society at large has written off hip-hop as being only for gangsters, thugs, people who were morally corrupt. But through Rapture, we sought to depict the brilliance, passion, intelligence, artistry, dexterity, humanness, complexity, and perseverance that has made hip-hop and rap music the dominant global form.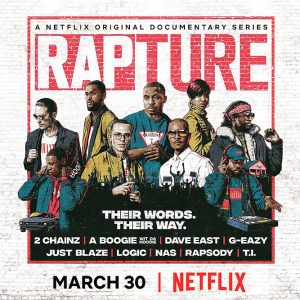 We hope the series shows the featured artists at the top of their game for a reason, rising because of supreme artistry, hard work, a desire to change their situation: in summary, rising through the American dream.
Connection: Were there some best moment, breakthroughs, or epiphanies? What did you learn?
Ben Selkow: We had many, many incredible moments—from rocking with Nas at JazzFest in New Orleans backed by a 10-piece brass band in the Soul Rebels, to watching T.I. and Harry Belafonte intensely examine contemporary issues. But one moment that I just experienced speaks to the moments of resonance, the nuances and many gems throughout this whole series: During the screening of the Nas episode at the 1,100-seat Paramount Theatre at SXSW, T.I. was sitting with Dave East in the audience (I was one row behind them). They were really enjoying the episode, where director Sacha is highlighting Nas's power in hip-hop—and she tells him that legendary Bronx rapper Big Pun's grandson's given name is Ether ("Ether" was a famous diss track Nas made in 2001). On screen, Nas is visibly taken aback at hearing this—as, I can see, are T.I. and Dave East, Nas's protégés.
The next thing that happens in the film is we play a line from "Ether" to punctuate the point, that Nas's influence is deep: "I am the truest, name a rapper that I ain't influenced." When this line plays, the audience spontaneously sings this line together—led most loudly by T.I. and Dave East.
At that moment, I realized: Doesn't matter what the reviews say; true hip-hop is feeling this project. We did it—and, hopefully, get an opportunity to keep telling these stories. [See trailer below].