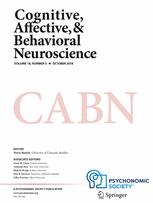 Assistant Professor of Psychology Mike Robinson, Samantha Hellberg '16, and Trinity Russell '17 are coauthors of a study published in the Journal of Cognitive, Affective, & Behavioral Neuroscience, October 2018.
In the paper titled "Cued for risk: Evidence for an incentive sensitization framework to explain the interplay between stress and anxiety, substance abuse, and reward uncertainty in disordered gambling behavior," the coauthors propose a theoretical framework about how cross-sensitization of reward systems in the brain, in part due to uncertainty, leads to high levels of comorbidity between gambling, substance use, and anxiety disorder.
In particular, the coauthors review the literature on how cue attraction and reward uncertainty may underlie gambling pathology, and examine how this framework may advance our understanding of comorbidity with anxiety disorders, and substance use disorders, such as alcohol and nicotine, which are both frequently consumed in gambling settings.