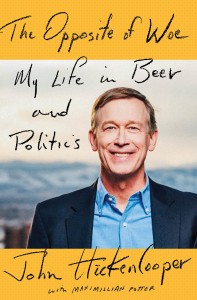 Irrepressibly optimistic, funny, self-deprecating, at times self-doubting but driven to tackle difficult challenges. These are the qualities that shine through in John Hickenlooper '74's disarming autobiography, The Opposite of Woe: My Life in Beer and Politics (with Maximillan Potter; Penguin Press, 2016).
It was in a moment of self-doubt, or perhaps profound personal insight, that Hickenlooper chose Wesleyan over Princeton, having been accepted to both universities in 1970. He confesses now that he didn't think he was good enough for Princeton, but then adds, "I had a feeling that Princeton would be a bit too conservative, too buzz-cut and buttoned-down for me, and that Wesu's long-haired liberal arts types would be more my crowd." He was right.
Hickenlooper's time at Wesleyan was remarkable for its longevity, and he devotes three chapters to "That Decade I Spent in College." With candor unlike any politician bent on image burnishing, he tells in detail how he had his heart broken in love. An English major, he discovered his interest in geology in the second semester of his senior year, when he attended a lecture with a friend and found himself captivated by a discussion of leach fields and perc tests. He stayed at Wesleyan as a special student to take courses specified by the Geology Department as a prerequisite to being admitted into the master's degree program, which he received in 1980.