During the fall semester, 17 Wesleyan students collaborated with a community partner to create a geographic information system and conduct data analysis and visualization related to the community partner's objectives. GIS is a computer system for capturing, storing and displaying data related to positions on Earth's surface.
The students, who are enrolled in the service-learning course E&ES 324 Introduction to GIS, presented their semester-long findings at a public presentation Dec. 8.
"By partnering with a local group, the students are not only learning GIS skills, they're also helping our community," said the course's instructor Kim Diver, assistant professor of the practice of earth and environmental sciences.
Students learned about data collection, project management, editing, analysis and cartographic design.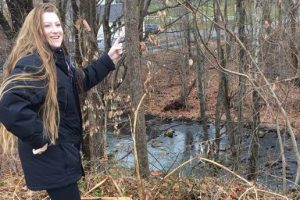 Annie Flom, Emily Hart, Jess Brennan and Riordan Abrams partnered with the Middlesex Land Trust to analyze the Sumner Brook Corridor for properties that should perhaps be protected. The students reviewed parcels both up and down stream to see how to protect the water corridor, the associated green-way and various ecosystems.
While a previous GIS group has already worked on a project similar to this in Middletown, this group extended their analyses southward to the Durham/Guilford, Conn. boundary. The group created ranked overlays to determine what properties have higher scores based on their size, zoning and proximity to water.