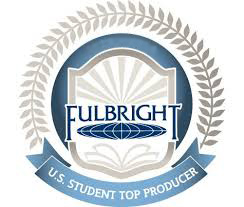 For the second year in a row, Wesleyan is proud to be included on the list of U.S. colleges and universities that produced the most 2017–2018 Fulbright Students, as recently announced by the U.S. Department of State's Bureau of Educational and Cultural Affairs. The Fulbright Program is the U.S. government's flagship international educational exchange program. Top-producing institutions are highlighted annually in The Chronicle of Higher Education.
For academic year 2017–2018, six recent alumni and one graduate student from Wesleyan received Fulbright awards. Those who accepted and are currently participating in Fulbright are:
Kate Cullen '16, academic Fulbright in Chile. Cullen is researching innovative ways to monitor glacial retreat and effective climate change adaptation strategies, focusing on Mocho Glacier in the Chilean Lake District. She has partner with local experts in Santiago and Valdiva to evaluate local vulnerability and hazards from rapid glacier melt.