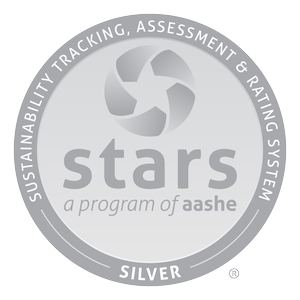 The Association for the Advancement of Sustainability in Higher Education (STARS) recently awarded Wesleyan with a Silver rating for its 2016 sustainability performance.
Wesleyan completed its first STARS report in 2013 and earned a Silver rating with a score of 53.06. Over the past three years, Wesleyan developed a Sustainability Action Plan to address many of the areas of improvement found in the 2013 report, and has increased its score to 58.11. Sixty-five points are needed to obtain the Gold rating, and 85 points are needed to obtain the Platinum rating.
Wesleyan's commitment to sustainability began in the 1980s with the creation of a recycling program. This commitment expanded over the years, explained Sustainability Director Jen Kleindienst, to include addressing climate change, waste diversion, energy reduction, water conservation, integrating sustainability into the curriculum, promoting sustainability in co-curricular activities, and changing purchasing, building construction and grounds practices.
"Wesleyan began tracking its carbon footprint in 2007 and we're continuously working to make significant progress toward a more sustainable future and meet our 2050 carbon neutrality target," Kleindienst said.